Eating fruit.

India
5 responses

• New Zealand
28 Dec 07
I eat fruit regularly every day ..but i will admit its not the best thing i do..I eat because i know its good for health. I eat after my dinner a bowl of mix fruits which consist of apples , strrawberries , kiwi fruits and oranges. Some time i take juice instead of fruit ...So it does not matter what time and type of fruit you take ..just keep taking it regularly ...because health is wealth..Rating you for this ..cheers

• India
16 Dec 07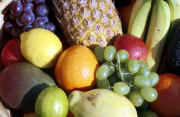 hello ronimas,i don't know any perfect time of consuming fruits.i think you can eat it anytime of the day.but it should be taken before anything else. natural hygienists have known for a long time that fruits doesn't combine well with other foods.the reason is that fruits contain simple sugars that require no digestion and therefore they will not stay for a long time in the stomach,unlike other foods rich in fat,protein and starch that stays longer period of time for more digestion.so if you eat fruit sfter a meal,the fruit sugar will stay for too long in the stomach and ferment.this is why people experience digestive trouble while eating fruits that way.they blame that particular fruit and complain of being allergic to it. another thing is to avoid mixing acid fruits with sweet fruits such as bananas.so the only thing that is important to remember is to have the fruit first-not after,and ideally only have one variety at a time.



• China
16 Dec 07
The best time to eat fruits is meals latter two hours or before meals for a hour. When you after meals to eat fruits if in food includescalcareously,calcareous can and in fruits' tannicacid union producesone kind of hardmaterial tannic acid calcium. this not only reduces ate food's nutritional value, but also affects the stomach and intestines the digestion ability. The empty stomach eats the fruit also is unscientific.Because some fruits include the massive organic acid, can unusual stimulate the stomach wall the mucous membrane to be disadvantageous to the stomach department health.