Watching Jamie Gold get snapped off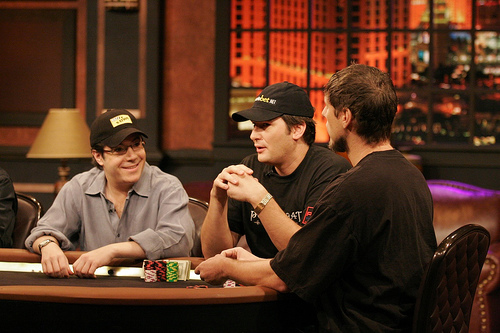 United States
November 29, 2007 1:27am CST
Watching Jamie Gold play badly and lose is probably one of my favorite things to watch on High Stakes Poker. I really can't stand him and love to watch him lose. I wish Sami Farha bet that money and got him in all in pre flop because Sami would have won all his money. There is not a single person I enjoy watching lose more than him.
1 response

• United States
8 Dec 07
AMEN BROTHER!!!! Jamie Gold is the biggest piece of dung to ever sit at a poker table!!! I was embarrassed to call myself a poker player for a whole year after he won the bracelet. I don't know if you've read anything about him outside of the game, but he really is a dispicable(sp?) human being. Basically the way I understand it, he refused to pay the people that backed him the $6 million he owed them. Thankfully they sued him and got it, but I'd rather they just let those guys beat the crap out of him!!! I didn't even watch the WSOP this past year because I was still so peeved that someone that was such a TERRIBLE player AND a WORTHLESS human being was an ambassador for the game that I love so much. I would be so pleased to see the WSOP use a HORSE format rather than NL holdem. That way, we would never have another Jamie Gold!!!

• United States
9 Dec 07
I completely agree with that. I've seen a change in people lately and their attitudes at the table and I contribute a lot of that to Jamie Gold. They see his antics on television and the guy is all over the place (High Stakes Poker, Poker After Dark, ESPN). These young impressionable poker players try to emulate him and all that happens is me just wanting their chips even more. I like the idea of the HORSE format also for the WSOP, but money talks. Harrahs and the WSOP make so much money off the main event with sponsorships, endorsement and television. Plus, no limit translates better on television than the other games. So that will always win out as long as money is involved.

• United States
9 Dec 07
Yeah, it's true, money talks. I liked the idea of the PPT and thought that was going to take off, then I looked up and Jennifer Tilly was at the table. GOOD LORD!!! I'm not knocking her play, but it's the PROFESSIONAL POKER TOUR and she's not a pro. Maybe some casino will step up to the plate and promote a "professional's championship." A horse format with a 50k buy in would keep the Jamies away I'm sure. Heck, it'd keep quite a few pros away too. But there's hundreds of great holdem player that would lose their a** playing razz or stud.