What is your favorite spot or room in your home and why?

United States
November 30, 2007 12:08am CST
What is your favorite spot or room in your home and why? I have small room on my attic, cozy and quiet, I feel like I have more energy when sitting there. My cat likes it too. She has her favorite chair there. I like to spend my productive time in this room. I have my separate office place for work, but when on Internet, I prefer to stay there.
8 responses


• United States
30 Nov 07
Do you believe that each place has its own energy?

•
1 Dec 07
Yes, I believe a room or building can take on an atmosphere from those who have used it. We once looked at buying a house, but it had a terrible atmosphere in it. We later learned from a neighbour that a couple had lived there who were always fighting and if often became violent.

• Canada
2 Dec 07
I think I know a place like this. I used to be in it.


• Canada
2 Dec 07
wow you changed your avatar again :) my favorite is where my shop is, but somesitmes if there is a lot of work I have to use computer somewhere else. I prefer using my computer in other room because there my cat is allowed to sleep and play

• United States
2 Dec 07
My cat likes my computer, she is using her paws to help me......:)

• United States
3 Dec 07
Mmmm..are you in competition with my avatar...LOL..love it...is that yours (kitty I mean?) I would have to say my bedroom is my favorite as it really shows my personality, that is to say "very" artistic..I have opposite walls painted a beautiful shade of turquoise blue and the other walls a deep lavender..both I mixed myself All around on the walls I have a lot of things (knick knacks) hanging up. Each wall actually represents the seasons and the meanings behind the directions (according to pagan/wicca)--for example the Eastern wall represents Spring, the air signs, music, communication, etc..so I have Spring type things hanging up, and happen to have all my old cassette tapes in shelves (about 500 tapes)...The southern wall represents Summer, the fire signs and I have a lot of my Native american paraphenalia hanging up there, like my mandala..the western wall=Fall, the water signs, so I have Halloween and fall motif things there. Last the Northern wall= winter, earth signs and where I my Christmas corner with a small artificial tree that I have all year long... I also have hanging about various matted black&white photos of mine Uh, get the idea???...very creative and artistic looking...so also it's the most relaxing room for me as well to be in

• United States
3 Dec 07
Oh ps..starting to get into that feng shui to create more positive energies

• Canada
3 Dec 07
she is really cute :) or is it a he? can you see it in the dark?


• Philippines
3 Dec 07
Hi polachicago! Oh that is beautiful. I just love to have an attic in my home. Maybe, if i will have more money i will have my dream house built with an attic. As for my favorite spot right now, I think my favorite at the moment is my bedroom. I used to love my kitchen before, then i have a changed of heart and love my computer room the best. And for this time, it is the bedroom which i really love to spend time. I am always looking forward to be inside my bedroom because no one goes there except me and my hubby, and i have so much privacy there unlike on my computer room which have been extended to an office. This i share with my hubby and so many clients of his are coming over all the time. Take care and have a nice day. :)

• United States
4 Dec 07
computer rooms are always favorite...:)

• United States
2 Dec 07
i like my bedroom i tis my place of peach and quite when i want to, and it is place where i do most of my works, like internet and stuff like that.

• United States
2 Dec 07
Own bedroom is always the best place....:)

• United States
30 Nov 07
Dont know if they are favorites but I spend more time here in puter room and frontroom. Puter room in the morning like now up all by myself with no one up and stiring. Front room fo rthats where I sleep right now was also the room me and hubby spent the most time in after he got sick . We would slepp in there alot of nights when he couldnt get up to go to bed or when the bed hurt him to much to get in. These are just cosy rooms for me and all visitors like the front room they all fall asleep in the recliners lol One girl said she loved our house she could just relax and sleep and feel safe!

• Philippines
23 Dec 07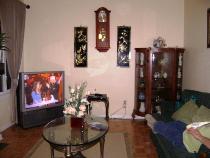 I am fond of staying in the living room where the TV set is there and it is spacious and with good ventilation. I now live alone and I can even lie down and sleep there.

• United States
23 Dec 07
I know what you mean. I like to in nice space myself...

• United States
30 Nov 07
My apartment only has 2 rooms. A bedroom and the main room. Well there is also a bathroom and 3 closets. I'd say room wise, the main room. Spot: the big comfy black oversized chair I bought from a second-hand type store for $60. Technically it's a love seat but it's a totally small loveseat that I call an oversized chair. It's so comfy.

• United States
30 Nov 07
it is probably very cozy during cold weather....