Do you always go to market even it is rainy season?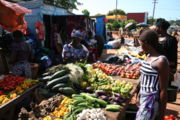 Philippines
November 30, 2007 12:31am CST
me, i dont like to go to market,coz i dont know how to buy a food in small price.i dont know how to save money in short.every time i went to market to buy some fruits and vegetables for my mom,i always lost a big amount of money for only a fruits.thats why my mom doesn't like me to go to market alone or without her. but even a rainy season is not good to go to market,because there are a lot of people out there especially in rainy days.they are buying a small price of fruits and vegei's in the market even rainy days.Because they save much more money compare to a supermarket.
2 responses

• India
30 Nov 07
Well,it is true that it is very trouble but if we require then we have to go.I don't think it possible to buy huge amount and keep it.I go to the market everyday and I think by going I get fresh vegetable,fruits and fishes.We Indian get 3 monthes rainy season,so we have to do everything in rainy season.

• Philippines
1 Dec 07
yeah, and thanks for your response!keep in touch and have a nice day.

• India
30 Nov 07
Iti s easy to shop during the rainy time, because there won't be customers at the shop, roads are free and we take the car so that parking is available. It is easy to bargain at this hour. But it wont rain 365 days. In our city, rains are experienced only 20 days in a year.