cats VS dogs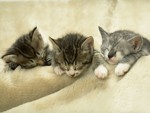 China
December 1, 2007 9:48pm CST
My room mate and I have had an on going debate about which is more fierce, a domesticated cat,or the average domesticated dog. In this particular situation we are talking strictly about the nature and instinct of the animal. I personally feel that a average dog is more fierce than a cat,let me kown what YOU THINK!
5 responses

• India
2 Dec 07
i like both cats and dogs , i had a dog for 2 years and i h ave more than 9 cats sharing our property and every one of has individual characteristics a female cat may shy away from a tomcat but never against a dog, i have seen our senior most girl cat take on two dogs and drive them away...that was cool...and she strutted allover the place like she owns the place..oh she is a accompolished mighty hunter too..usually she gets mice,squireels the occassional pigeon but one day she surprised us when she killed a small rat snake(yellow non-venomous snake)...So personally i think dogs can intimidte people if they wanted too.. but they can never get the better of she-cat...

• China
2 Dec 07
he,from your reply i feel that you like so many animals ,perhaps you are a kind man:)


• Portugal
2 Dec 07
Hmm, nice discussion (:p) I think it would depend. Cats are wilder and than dogs, cats climb trees, they can also change their "ways" faster than a dog. For the other side, we have a heavier, with big teeth, stronger dog. I think it's risky to say, but i would say dog too. But i can also say that the dog would gain lots of body marks too. Cats can be crazy sometimes, they would probably blind the poor dog. heheheh

• China
2 Dec 07
i like cats more,perhaps it's more independent and has its own way.

• Italy
2 Dec 07
i like both cats and dogs. I saw a documentary about the cats the other day and they said that except humans cats were the only living beings killing just for fun and not because they are hungry. People do that too so we can't judge them right. Anyway, I have always had a cat because it can take care of itself better then the dog considering the fact that I spend most of the time at university so I can't take the dog for walks and that kind a stuff but I would like to have a dog too. I like to have a pet because they are so great and they give you their love for little attention and some food

• United States
2 Dec 07
I'm not to sure about that one there. I own both I know for a fact when it comes to my cat defending its territory the dog always losses. No matter what. You see the big poofy tail and its over. But the dog is just not dumb, just in sensitive to whats going on usually. But when the dog is outside that is his domain. So I think its dependent on where they animals are at. But that is just me