Do you think tattoos are sexy?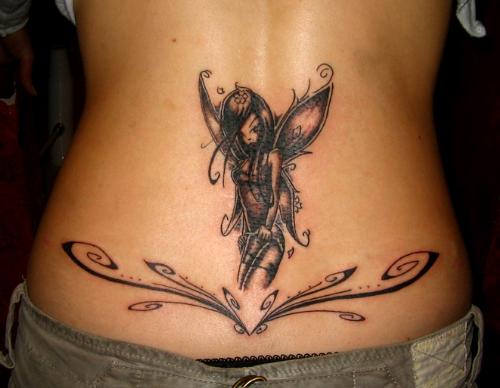 United States
December 3, 2007 12:16pm CST
I only have one tattoo and have been considering getting another. When I tell people that, the reactions are mixed: some love them, while others hate them. My question to you, the myLot community, is if you think tattoos are sexy, generally speaking, of course.
7 responses

• United States
3 Dec 07
Now I dont know if I would say they are sexy but I do like them. I feel though if you are going to put something on your body it should be meaningful to you. I have one around my ankle and am going to get another one. The one i have has one of my sons name in it. I am going to get another one for my new baby.

• United States
3 Dec 07
I think that's a beautiful idea. What could possibly be more meaningful that the names of your own flesh and blood? I've often considered getting something to honor the memory of my mother who passed away a very long time ago.

• United States
3 Dec 07
I think you should do it. If it means something special to you it doenst matter what others think. And if a love interest doesnt like it maybe they are not worth your time if they dont support you.

• United States
3 Dec 07
Thank you, I think I will . . . Now, I'm torn between getting her name, or her photograph. Maybe I'll get both. *smile*

•
6 Dec 07
Also, tattoos ARE sexy when they show some kinda artistic and thoughtful side, which they should. Like.. when they actually have a personal meaning. I used to work with some dude who had a tattoo of Curious George on his upper arm. He got it when he was drunk and i can honestly say that isnt sexy. He doesnt even hsve anything around it to try and hide it.. its his only tattoo.

• United States
12 Dec 07
I suppose it would be difficult for the average person to find Curious George, or Mickey Mouse, for that matter, sexy. *grin*

•
4 Dec 07
I have four tattoos, each one of them is my own artwork so they are unique and I love them. I do find them quite sexy in a way, my partner loves them and wants me to design one for him too.

• United States
12 Dec 07
I've often thought of trying my hand at an original design, but I'm such a perfectionist that I'm seldom happy with the things I create.

• Cupertino, California
3 Dec 07
I have 2 tattoos and plan on getting more. I love them. There are some poorly done tats. I feel bad for people who have those because that is the kind of thing I find others judge as trashy.

• United States
3 Dec 07
I've seen my share of "bad" tattoos, as well. Personally, I couldn't tolerate walking around with something so crude on my body; I would always feel the urge to get it "touched up." Then again, beauty is in the eye of the beholder, so I try not to judge.

• United States
3 Dec 07
I have two tats and am getting about 12 more of varying sizes...do I think they are sexy? Well in all honesty it depends on the where, why and what really....Where is it on the body? Why was it done? and what is it of? also the quality of work is key as well IMO..I mean you could have some fabulous tats or tat ideas but if they are done in a crappy way and look horrible then no I wouldnt see them as sexy at all.... For me personally though, I could care less if anyone I know (or done know for that matter) thinks my tats are cool or sexy....FOR ME they are important, have special meaning and so on..what anyone else thinks is completely irrelivent as far as I'm concerned :-D

• United States
3 Dec 07
Very true! You're going to be the one looking at it more than anyone else, so your opinion is what counts the most.

• India
3 Dec 07
Yes i feel that tattoo are surely sexy but at the same time i would say that excess of everything makes it loose the charm. If the photograph is yours its just perfect and dont try to get it all over your body. Let your orignal skin too let its presence felt. That would be sexier. I too have thought of this option but it seems that its not an easy option so i simply paste tatoo stickers on my back when going to parties.

• United States
3 Dec 07
Moderation, yes . . . it's a shame that more people don't believe in it. Anything can be spolied through excess. I couldn't agree with you more. Well said.

• United States
21 Jan 08
well done ones? definetly. especially the tommy lee type where they become sleeves.i absolutely love the chest pieces he has. i have about 6 myself,and will be getting more in the future.