What kind of Christmas Tree Topper do you have?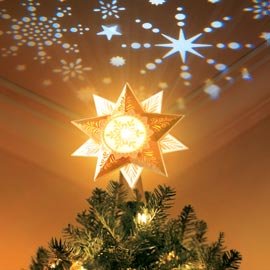 Canada
December 3, 2007 6:59pm CST
We just have a plain plastic gold star for on top of our tree. It doesn't light up or anything. I wish it did. MAybe we will get a new one some day. What type of Christmas Tree topper do you have? A Star? And Angel? Something else? Does it light up or change color?
5 responses

• United States
4 Dec 07
Sometimes its a star. Other times its an angel. I also use a mini silver tree as a top on occasion. None light up, its alright though.

• Canada
4 Dec 07
A mini silver tree to top a big tree ... sounds interesting!

• United States
4 Dec 07
We always use an angel, we have 3 so depending on what colors are on the tree that year is which angel we use. Last year our tree was all gold so we used an angel that had an ivory and gold dress, this year our tree is gold, ivory and deep red so we're using an angel that has a deep red dress and gold wings and a victorian look to her. We alternate the tree colors every year so we don't get bored with it. This year when we moved we left behind (by accident) almost all of our old decorations so we only had the gold and some red left. Next year we'll have to buy all new ones so we can alternate.


• United States
6 Dec 07
Yeah it does, so not fun. We also left behind our good silver, a ton of lights and a suitcase. It tooks us days to move and that last day a storm was starting so we were trying to really do it quickly and were so tired. It's ok though, I'm all for getting new decorations next year, I was getting tired of the same old stuff.

• United States
4 Dec 07
My mini tree in my office has a silver snowflake as the topper and all silver decorations with a couple of hot pink ones, the tree itself is like a translucent white/pink.


• United States
5 Dec 07
We have an angel that is made of plastic. It's supposed to look like it's iced glass, but we're too cheap for that. It doesn't light up, but sometimes I try to stuff lights in it, but it just isn't the same.

• Canada
4 Dec 07
We have two tree toppers that we alternate every year! One year we use the angel and the next year we use the star. PurpleTeddyBear.

• Canada
4 Dec 07
It's nice to have some variety.

• United States
6 Dec 07
We have an angel that has lights that flicker on and off. We have had this for 20+ years and it still looks good, even after a mouse attacked it..:)