What's the most important tattoo you have?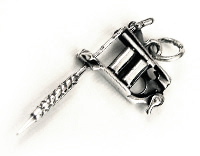 United States
December 4, 2007 9:06am CST
Of all my tattoos, the most meaningful one for me is the one that takes up my left shoulder/upper arm. It is all black (TONS of black). It is the Philadelphia skyline, with a lightening bolt through the middle. I love it. A lot of people hate it, but for me, it's my home, you know? And my father had a lightening bolt on his arm, and so it was important for me to have one as well. Tell me about the most meaningful tattoo you have.
2 responses

• Philippines
4 Dec 07
hmmmn...wish i have one...

•
23 Dec 07
My favorite is down below my neck, between my shoulders, it is an Egyptian symbol that represents protection. It has a pair of greenish blue eyes with an Egyptian symbol around them. Tats are really addicting