Graveyards in the campus…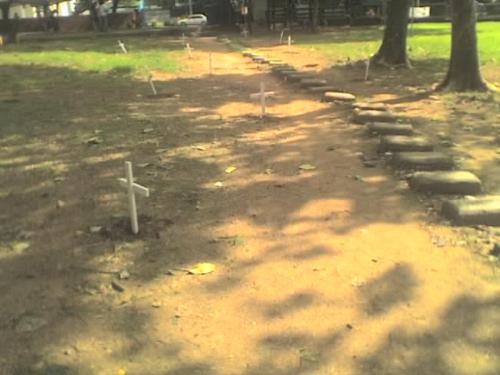 Philippines
December 4, 2007 9:13am CST
After the Manila Pen incident waves of of forums and events started to circulate in the school. The incident became a triggering event which causes slight aggressions (not the negative one) among radical organizations. Well, here's one of the evidence.(Check photo below) All I can say is that what Trillanes and his comrades did is worthless. Their plans to oust the president and to impose a transitional government will be buried six feet under. Anyways, 2010 is fast approaching. Why can't they wait for that? I'm really pissed off everytime they use the phrase "for the Filipino people" when asked about their agenda. Aren't they ashamed to stand in behalf of the people knowing nothing of our true sentiments? Haven't they came to their senses after that incident? They expected massive uprising after the coup but they saw and heard nothing (that should have snapped them into their senses). The present government though has its flaws and imperfections still manages to run this struggling country fairly well.
2 responses

• Philippines
4 Dec 07
What Trillanes did was a total mess and worthless. I personally and strongly believes that uprising or "peaceful assembly" to oust the incumbent President is not an effective means anymore. But rather, respect of authority and waiting for the right time is the right way. Let us not put the law in our hands. But let good reigns and it will surely prevails.

• Philippines
22 Mar 08
yeah...they are the law reinforcers in the land but it's very ironic that they are the ones who are breaking the law...tsk...tsk...they should serve as good models for the filipino people...what they did are completely stupid and out of place...

• Philippines
4 Dec 07
I do agree with you. I think what Trillanes did at the Manila Pen was completely worthless. Sometimes I just wonder if all he wants is publicity. I mean, after the first failed coup, hasn't he learned his lessons? Isn't he still in prison for what happened during that first incident? All he caused was a lot of damage, and what else... another bad impression for the Philippines, right? So what was his real ulterior motive? I was in Makati that day it happened and I was simply disgusted. He would probably have done much better serving the nation with his position as a Senator, inside his cell.