what are you going to do this christmas?...

Philippines
8 responses

• Canada
5 Dec 07
Our family wou;d do the same thing every year , hope you have a great Xmas with your LOVED ONES !!!!

• Philippines
8 Dec 07
YOu too!...merry Christmas:)

• China
5 Dec 07
Hello dear butterfly. Long time no see. I am very happy to see your new disussion today. It is so nice that you have got your plan for Christmas already. But as it is not our traditional day, I don't have any special plan for it. Anyway our school will have all the classes have a Christmas party in each classroom and for sure I will be with my students in the classrooms. Thanks for your discussion, dear friend. Good day.

• Philippines
8 Dec 07
HI!...I miss you friend! hahaha that would be great a christmas pary at school for sure you have lots of gifts to receive then...hehehe...cause I know you are a good teacher and a good friend too... See ya!

• Philippines
5 Dec 07
Ussually every christmas we do go to church and we celebrate here in our house with some relatives, and we wait for our grand childen to visit us for there gift and after that we went to some friends to have a party on their houses.

• Philippines
8 Dec 07
oh!...what a happy and busy christmas then.

• Canada
8 Dec 07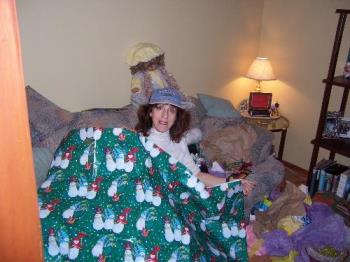 My parents and David's have passed on and we don't have kids...so we have a quieter Christmas than some. However, what we do have is a wonderful sense of community where we live. We are going to the Opera House tomorrow to join residents of our town to sing Christmas carols. We are attending church on Christmas Eve and will be going back to our home town to spend time with friends that are as much or more like family to us than ours ever were. I choose gifts all year around and love giving them with a hope that it will add a little joy to life. My birthday is New Year's Eve and we will be spending it with friends and bringing in the New Year with a celebration of how we have all come again this year. We attune our attention to the Winter Solstice as well as Christmas and see this time of year as a time for contemplation and spiritual reflection more than from a material perspective. Our home is decorated, we are listening to carols and counting our blessings. David overcome a number of health problems this year and neither one of us were able to work as much. It created some financial strain...but we grew stronger, closer and the circumstances deepened our faith and spiritual beliefs...so we have much that we are rejoicing about as this cycle ends and a new one is beginning. I love this time of year and am thankful my Mom gave me a 'legacy of love' that I do my best to share with others not only during Christmas...but as she said 365 days of the year. So yes, I am all 'wrapped' up in the love, light, peace, hope and love of this enchanting time of year!Warm and caring regards, Raia Raia

• Philippines
8 Dec 07
I know you will enjoy for sure...thanks


• Philippines
8 Dec 07
Oh I love it...that's really nice...hope you enjoy!


• Philippines
8 Dec 07
I really appreciate you a lot...I hope everybody could do the same too...God will be happy then...keep it up and happy holiday:)

• United States
5 Dec 07
I have no earthly idea what I'm going to do. My mother is going to be out of town, it will be the first time I'll have ever not been with her for Christmas. It'll just be me and my fiance and I don't know what we'll do.

• Philippines
8 Dec 07
we will try to visit you then....lol...we might disturb you for sure...thanks

• United States
5 Dec 07
Well we will probably go to church on Christmas eve. Have breakfast and open presents Christmas morning. Then depending on the weather, drive down to my in laws 2 hour drive away. Once there, have dinner a short visit. Then we will drive back. Pretty busy, I guess. Have a good holiday.

• Philippines
8 Dec 07
yes it's really important to go to church first before anything else...