Wendy Simms as CSI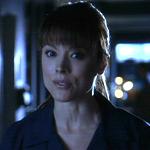 Philippines
December 4, 2007 8:44pm CST
After watching the last episode of CSI title "You Killed Me" Wendy Simms has been good in analyzing the Hodges's Crime scene scenarios and has expressed on applying the CSI field operations. Do you think Wendy Simms can replace Sara Sidle as a CSI?
4 responses

• Orangeville, Ontario
6 Dec 07
I have to admit I was worried that Ronnie was going to replace Sara when they brought her in to help out. But after the last episode when Simms said she was applying for CSI I realized she would probably replace Sara and breathed a sigh of relief. I can't help but wonder whether that was what the writers had planned all along and strung us along by bringing Ronnie in, or did they get bad feedback about Ronnie and decide to go another route? My first thought about the episode where Hodges played out crime scene scenarios was that they got such an overwhelming response when he got the other lab workers to try and help him solve the miniature murders, that they decided to do another episode with the lab workers. But it seems this is the transition of Simms taking over for Sara. At least that is what I hope.

• United States
5 Dec 07
I really like Sara. I like all the characters on CSI at present time. I hate to see anyone taken off the show because I think they each work well together as a group. CSI is my favorite show.

• United States
8 Dec 07
The TV guide said she will be back. they also said that she will be visiting Grissom from time to time until her return

• United States
5 Dec 07
I think I would prefer Wendy over Ronnie as the new full-time CSI. I mean Ronnie's cute and has that wide-eyed optimisim and all, but that can be grating in large doses. I wouldn't mind seeing her from time to time, but I would rather have Wendy step up to a CSI. She's been there awhile, so there wouldn't be that "getting ot know you" stage, which can be lame since all the viewers know the characters already. I also like that Hodges has snagged himself a place in the opening credits. Go lab rats!

• United States
9 Dec 07
I'd much rather see her as a CSI than that new girl that Sara was training before Sara departed. Greg did it, but I also don't want to see all the lab rats following in Greg's footsteps and becoming CSIs just so they can get more airtime. But I did enjoy Hodges's game board and that story line. Especially why he kept picking on whathisname in balistics.