do you love your self??!....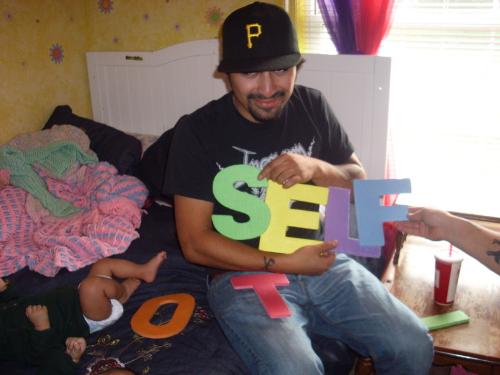 Philippines
10 responses

• United States
6 Dec 07
Yes, I love myself. It has not always been that way. I had to learn to love myself. I think that is a common problem among those who did not grow up being loved. They feel that nobody can love them and therefore they do not love themselves. I learned the hard way that you must first love yourself in order to be truly loved by someone else.

• Philippines
6 Dec 07
Yep! xio much! I give priority on my needs and wants now b4 others well exception to that are my family. Although at this moment im kinda disappointed hahha.. let myself do everything and eat ehemmmm.... lolz.. so yeah here i am "chubby" , its not too late so im on the process of gaining back my normal weight. I pamper myself and have all the time I need for myself.

• Philippines
21 Dec 07
OF course I do love myself. I take care of myself a lot and I pamper myself. But sometimes when I feel sad and depressed, there are bad things that I think to do with myself,. :)

• United States
6 Dec 07
I don't love myself very much right now, because of how my health has deteriorated in the past 5 years. But I am beginning to work to make myself better, physically and mentally, so that I will love myself again. I can do it, and that is something I DO love about me!

• Kenya
6 Dec 07
I love myself soo much. Before I met my fiancee i used to hate myself because my sister used to tell me that am ugly, but when my bf told me that he loves and am the most beautiful woman in the whole world. I felt like i was born afresh. I started taking and looking at myself differently. I am very proud of myself now. Thanks for your discussion.

• Philippines
7 Dec 07
your welcome...he he....believe your self that you are so beautiful.....not physical but your attitude is so nice,right?!don't pity in your self....continue to proud your self....remember,you are so lucky that you are here in earth to live and to feel love in your life....:)

• United States
22 Dec 07
I do love myself. It is when you can love yourself that makes it possible for you to be loved by others. If you don't love yourself you would not think you deserve to be loved so therefore your life would be a sad one...I love myself and am in love and is love the world around me and the people that surrounds me are all about love...Love is in the air...love is in my food...love in is my eye...whenever I see my kids and my love ones and even my friends....I feel, hear, see, touch, and taste love...


• India
21 Dec 07
Ya i love myself..Infact this is the main secret of a success in human being....U always find a smile on my face,lovable nature...more to say.. but i can't....

• China
7 Dec 07
People say I'm good because I always smile, I'm helpful... But sometimes I don't like myself... I'm not confident.I don't like to compete with others, I just to be myself... It seems I'm not living for myself, but for the people who I love.

•
6 Dec 07
I think it is alot better to love yourself. If we can't love ourself then we won't be able to love other people. First we have to learn to love ourself so that we can love other people around us. As about me I love my habit of not being able to lie and not being able to be angry for the long time. I can forgive people easily.