Guess what Abigail gave me fleas!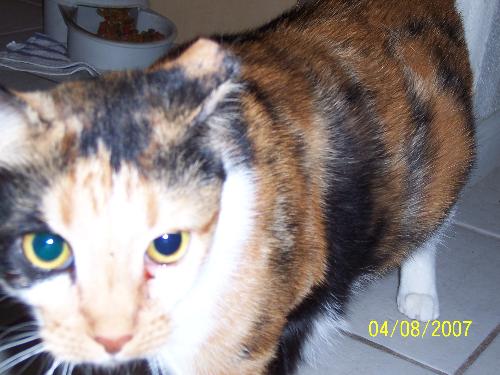 United States
December 6, 2007 10:19am CST
Petie here, Abigail that witch of a sister cat of mine gave me fleas. She goes over the fence and came home with hitch hikers on her. Now she has shared them with me. I have been itching and itching. It is not time for my grooming appointment so mom has to give me a bath today. I hate it when mom bathes me. She does not know how embarrassing it is when she baths me in the kitchen sink. I know in the kitchen sink can you believe it! Where she does the dishes she might as well take me outside in the rain I'm that exposed.I hate leaving the flea shampoo on for five whole minutes. It seems like an hour to me a little dog. I tell you what when Abigail goes to sleep I am going to give her a scare or something to get back at her. I do not know what I am going to do to mom for allowing Abigail in this house in the first place. I told mom not to bring her here that she was a trouble maker. You know how those multi-colored cats can be. The tabby cats are fine but those multi-colored ones are all trouble.
9 responses

• Turkmenistan
8 Dec 07
Well flea bag, I mean Petie. I am so sorry to hear about your woes. It seems so sad that such a sweet lil' doggie as yourself could become infested, I mean plagued. I wonder if this could be pay back for all the wonderful things that I am sure you have done to her. I hope you are all cleaned up and feeling better soon. Remember to behave yourself from now on.

• United States
12 Dec 07
What are you saying? I am always good just ask anyone! They can tell you I never do anything bad. At least ask Santa Clause he can vouch for me. He seems to think I am a good doggie he brings me lots of good toys every year so I must be a perfect angel of a dog.

• United States
13 Dec 07
Aunitie Rozie, I thought you loved me, I guess you don't.


• United States
7 Dec 07
Haha, well I hope you got rid of the fleas. At least your mommy gave you a bath to get rid of them! I'd hate to see you staying miserable and itching all the time. Now be nice to Abigail, she is your sister -- ya know!!!

• United States
12 Dec 07
I know she is my sister but she makes me so mad sometimes. I just want her to go and visit other people sometimes.

• United States
13 Dec 07
Santa loves me better than Abigail.


• United Kingdom
7 Dec 07
Oh no Peti I have the same Problems when we go to see Mike and Mel the Cats there give them to me and my Mum goes mad about it Also we have found out I am allergic to Cats but of course I still want to see them but this Flea Business is awful, when you give her a scare make sure that you do not get caught Friend or you will be in trouble and don't be to hard on her Good to see you again my Friend Gissi

• United States
7 Dec 07
I'm fine. What I did do was keep Abigail away from my toys and not let here sleep in my clean bed. Another thing mom has been doing is when Abigail wakes us up at 2am wanting to eat and claw at us mom has been putting here in the guest bedroom and shutting the door. I am glad at that now we can finally get a decent nights sleep. Abgail was keeping us up all night because she wanted to play. I sleep in my kennel and I sure hate it when Abagail sits at the door and looks in on me. It feels like I am in the fish bowel. I am not a fish, does't Abagail know the difference?

• United Kingdom
7 Dec 07
Hahahaha Peti I am sorry I had to laugh but if Abigail does not know the difference between you and a Fish she needs lessons fast I have to admit I did not like the Cats at Mike and Mels watch me sleep either it is a bit creepy when they sit and stare at you

• United States
12 Dec 07
I got Abigail back yesterday. I sat inside the house and made her stay outside and would not open the big glass door. Mom went out with a friend and Abigail would not come in before mom left so when Abigail wanted in I just sat at the door and stuck my tongue out at her and said "nanny, nanny, nanny, poopoo you cannot come in." She had to wait until mom came home. That serves her right for watching me sleep.


• United States
13 Dec 07
Aww. Hi, Petie, I'm so sorry to hear of this travesty. Well, I know you might not like baths and have to endure having that flea shampoo on you for so long, but at least it got rid of them didn't it? Did your mom bathe Abagail? She should, though cats are worse to give baths to. I just bet your sitting in your bed pouting with your head turned away from your mom, right? But of course you sneak looks when she's not looking. What kind of scare are you going to give Abagail, would love to hear it..But shhhhh. Just between us, okay?

• United States
13 Dec 07
I got Abigail back when mom went out with a friend. Mom left and Abigail would not come in the house so mom left her outside. When mom was gone Abigail wanted in. I would not open the glass door to let her in. I sat at the door and stuck my tongue out at her saying "Nanny, nanny, poop,poo you are out side." That serves her right for giving me fleas.

• United States
14 Dec 07
Hehee. My Petie how wicked of you. I bet Abagail got mad at you for sticking your tongue out at her like that..but good for you!

• United States
14 Dec 07
We are back to being friends again. Mom lets me sit on her lap with Abagail also. Mom loves us all. I somethimes forget that mom has enough love to share with Sammy, Abagail and I.



• United States
7 Dec 07
Mom did as you said. She put medicine on all of us. I got a nice bath in the tub. She even let me stand under the tap. I loved the warm water running over my back. I did the back stroke in the tub. She even left me in the bathroom with the heater on so I could stay warm to dry off. Wow mom does love me.

• United States
7 Dec 07
Abigail has nasty claws mamma cannot do that. Abigail would make hamberger out of mamma's arms. HUMMMM hamberger.

• United States
13 Dec 07
Awww, poor Petie. I sure hope that them fleas didnt suck to much blood from you before you got your bath.LOL. Maybe you can find a nice little tick or something to pay Abigail back for them, hehe! I know how you feel about the bath in the sink my mom use to do the same thing to me when I was a baby, talk about embarrassing, everyone in the house looking at me. Big Hugs!

• United States
13 Dec 07
Mom bathed me in the bath tub. She let me do the back stroke. She even turned on the heater so I could stay warm. She let me stay in the warm bathroom afterwards so I could continue to dry off and not get cold. As far as ticks, I am afraid of bugs. I am afraid if I got a tick for Abigail she would put it on me in my sleep.


• United States
12 Dec 07
Just for that I think I will come over there and lick your face.

• United States
6 Dec 07
Is Abigail on any sort of a flea preventative? Ask the vet. Do not use Hartz - that can be poisonous but use frontline, and there is another brand that I forget. There are also some natural remedies for fleas as well. Also, keeping Abigail inside more will help too.

• United States
6 Dec 07
No, Abigail has never brought home fleas before she will be on something now. She shared them with Sammie also. Mean kitty

• Canada
6 Dec 07
Hi Petie,;) I'm so sorry to hear of your plight. Fleas can be very nasty to deal with. I don't have any first hand experience, but have heard this from 'my friends.' Try not to be too upset with 'mom,' as she's only trying to make you feel better, I'm sure. I hope you recover from this horrible experience very soon. I'm not qualified to pass judgement on 'any type of cats,' as I find I'm extremely jealous of 'all' of them. I can't even stand to gaze at them through my huge dining room window, without being overcome with envy. I can never be 'really sure,' when one of them may come to live in 'my home.' By the way, that's my photo in the avatar here. Do you have one of yourself to share with me? Sincerely, Anna Belle.;)

• United States
6 Dec 07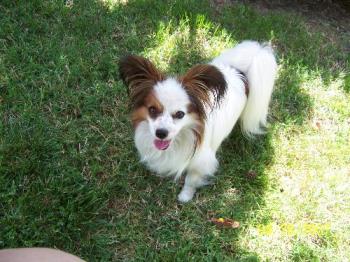 I sent you a good photo when I was happy before mom brought home Abigail. Actually she is not that bad. We play all the them. We run up and down the hallway. She tries to take my toys and I will not let her. They are my toys and I do not think I need to share. Look what sharing got me it got me FLEAS! OH no mom turned the heater on in the bathroom and closed the door. Maybe she will give me a bath in the tub instead of the sink.

• Canada
6 Dec 07
Don't worry Petie, you'll be happy again. It really does sound like you're trying to get along with Abigail, and sharing really isn't so bad. I hope you got your wish, and that 'your mom' gave you a bath in the tub, in the nice warm bathroom. Thanks for sending your wonderful photo. Your friend, Anna Belle.;)

• United States
7 Dec 07
I loved the bath tub. Mom must have listed to you all because she let me swim in the tub. No one had to see me in the sink. She even put the heater in the bathroom for me. Wow she does love me. No more fleas she even put on flea medicine to keep the fleas off of me and she washed all of my beddings. Boy she did not do that for Abagail. I now know mom loves me better than that trouble maker.