Bratz or Barbie?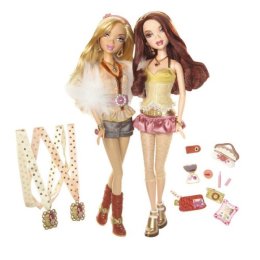 United States
6 responses

• Philippines
24 Jul 08
i like Barbie better. She's almost perfect!

• Australia
7 Dec 07
I think it is pretty even at the moment. I've found girls aged 4-6 like Barbie, and the older girls like the Bratz dolls. Ours have just been given Bratz pj's and they love them! lol. Going to have a hard time getting them washed I think.

• United States
7 Dec 07
I don't know about everyone else but for my 6 year old it's always been Barbie. I collect vintage Barbie myself so she has been around them her whole life. She has never asked for Bratz- which is just as well because they look kind of funky anyway.

• United States
6 Dec 07
I think Bratz are becoming more popular cause I rarely see a Barbie commercial anymore. I would prefer my daughter playing with Barbies because I think those Bratz dolls send a bad message to young girls. Barbie has been around for so long and I think she is a role model for young girls. Don't be surprised when your 8 or 9 year old want to wear hoochie mama shorts and a tube top cause thats what her doll wears.

• United States
6 Dec 07
I have noticed more little girls with or wanting Bratz dolls. I still see a few with barbies but I think the bratz have taken over for now. I see many more of them in the stores and tv than barbies.

• United States
6 Dec 07

From what I've seen in the store I work in the Bratz dolls are doing really well. I'm still buying Barbie for my granddaughter though to keep the tradition going.