orange marmalade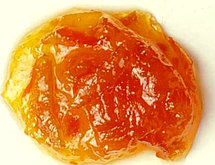 Italy
December 9, 2007 4:40am CST
Yesterday I bought 1kg of oranges for 0.49 Euro, and that would be some 0.70$ I've found a good recipe for marmalade so I made it. The most interesting thing is that you have to put the whole orange and you aren't supposed to peal it before. I was pretty skeptic about it but at the end it turned out great. Do you make marmalade? Do you like making different things? I've even found the recipe for pina colada marmalade but I don't know where to buy coconut flour. The only bad thing about making marmalade is that all the kitchen gets terribly dirty. Or it's just me who like to do a lot of mess to show I've been doing something.
3 responses

• Canada
9 Dec 07
Hi lorelai, Yes, whenever I used to make jam or marmalade the kitchen got into a terrible sticky mess. But that was just me not being organized. I found it really interesting that you used the whole oranges, white pith and all. Did that not make the marmalade bitter? I used to make orange marmalade when I was young and had lots of energy but from what I recall the white pith had to be removed. Now I just make red currant jelly. Two or three jars a year. My cousin has a current bush in her garden.

• Italy
9 Dec 07
The thing is the day before you have to put the oranges in the water for 24 hours. And you have to add salt to the water, and not just little bit of salt but 2 soup spoons. That takes out bitterness of the orange. I was surprised when I read I had to put the whole orange and pith too and I was very skeptical about it but it turned out great and salt really takes out the bitterness out of the orange.

• Canada
10 Dec 07
Thank you for this tip. I never knew about it. Maybe I will make some again. I love homemade orange marmelade.

• United States
9 Dec 07
I love marmalade! I just bought a jar because my stash finally ran out. I made lots of it... 14 jars... when a friend gave us oranges she had gleaned on a trip south. There wasn't a single blemish on them, and there were too many to eat, so I preserved. Marmalade is really simple and keeps almost forever, if I can hold myself back! Messes happen... I can make the same thing 2 days in a row and have the results taste differently... and on the second day, it won't rise and I'll spill the flour!

• Australia
10 Dec 07
I thing the skin of the orange is what gives the marmalade its tang. I would probably cook more and enjoy it if I didn't have to clean up afterwards. I really need a dishwasher. Also a lot of the time it is cheaper just to go and buy something rather than cook it.