How to Make Homemade Gravy

Canada
6 responses

• United States
10 Dec 07
If you have broth from the meat you are cooking use that. If not then dissolve about four bullion cubes in 2 cups of water. Bring the broth to a low boil. In a clean jar with a lid mix about 2 to 3 tablespoons of flour with cold water. Enough to make a thick liquid. Shake this vigrously until well mixed and smooth. Slowly pour this mixture into the hot broth while mixing with a wire whisk. When the gravy has the desired consistency stop adding the flour mixture. Season with salt,pepper or your favorite seasoning. I hope this helps.

• United States
10 Dec 07
The first step in the way I make mine is pretty much the same whether I am making a milk gravy for like biscuits and gravy or scalloped potatoes, to pour over mashed potatoes or meat, or when making a pot pie. I melt some butter in a pan and add a little flour and whisk it around until the flour and butter mixture is bubbly. This step gives the flour a cooked flavor and tastes totally different than if you were to add the flour to the broth mixed with water. Now, it varies on the second step. For a milk gravy I add milk(of course) as the next step. For potatoes and meat gravy I add meat broth or water with boulion cubes dissolved in it. For a pot pie I uses a combination of milk and water or milk and broth. Slowly add the liquid to the cooked flour mixture. Using a wish to mix it in. Keep adding liquid until smooth and the gravy coats the back of a spoon. Add desired seasoning. Serve.

• Canada
11 Dec 07
the easiest way i know to make homemade gravey is you take about 2 tablespoons of margerine and 2 tablespoons of flour and about a cup or 2 of water (start with a cup) bring it to a boil then add in some oxo beef or chicken soup mix and leet it simmer and cool it will thicken upon cooling you don't need to add more flour if you add more water but you do have to let it boil again if you add more water

• United States
10 Dec 07
I will give you directions for an old southern style breakfast gravy that my grandmother always made. Take two tablespoons of bacon grease and heat in deep iron skillet Cover grease with light coat of flour Brown flour completely till almost burnt Mix 1 cup of milk with one cup of water Pour mix into hot skillet stirring rapidly with wooden spoon untitl desired texture. Add salt and pepper to taste

• United States
11 Dec 07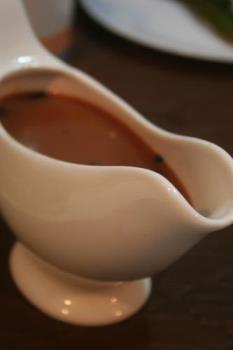 Hi Stacy. There are 2 types of gravy A white gravy or sauce and that made from from any kind of roast. I make a white gravy or sauce using fried meats such as hamburger sausage, and chicken. For these I use white flour 2 tablespoons shortening or lard(or drippings) 3 tablespoons flourbrown this mixture until well browned. when the milk is added it will be lighter in color. 1 1/2 to 1 3/4 cups milk salt and pepper, to taste for the gravy for roasted meats I add enough enough water or vegetable broth or chicken broth to make 2 cups of gravy. I then use 3 tablespoons corn stearch in s little cold water and mix it well. then I add the cornstearch mixture to the boiling broth and stir conrinually until it is thickened and cook it on very low heat until done. I likke to use corn stearch becaue I have less chances of haveing lumpy gravy. The secrect to good gravy is cooking it long enough.

• Philippines
15 Jan 08
here are the following recipes from allrecipes.com Chicken Gravy SUBMITTED BY: Barbara "After preparing your favorite chicken dish, it's all gravy - chicken gravy! Pour over chicken and go to town! Yum! If you don't have chicken stock on hand, you could also use bouillon cubes; just follow package directions and proceed as below." INGREDIENTS * 2 cups chicken stock * 3 tablespoons cornstarch * 1 teaspoon poultry seasoning DIRECTIONS 1. Bring chicken stock to a boil. Dissolve cornstarch in a small amount of cold water and add to chicken stock. Season to taste with poultry seasoning and cook until thickened. Serve! ------------------------------ Sawmill Gravy SUBMITTED BY: Lloyd Rushing "A thick milk gravy. Serve on biscuits with sausage and eggs." INGREDIENTS * 1 pound ground pork sausage * 2 tablespoons all-purpose flour * 1/2 teaspoon salt * 1/4 teaspoon ground black pepper * 1/2 cup chopped green onions * 2/3 cup milk DIRECTIONS 1. Place sausage in a large, deep skillet. Cook over medium heat until evenly brown. Drain on paper towels, reserving 2 tablespoons fat in skillet. Stir in flour, salt, and pepper. Cook, stirring constantly, until flour is brown. Add chopped green onion, and cook until tender. Gradually stir in milk, and cook until thickened. Add more milk if necessary to achieve preferred consistency. Serve with sausage. ----------------------------- D's Skillet Gravy SUBMITTED BY: DDemeritt "A classic recipe for brown beef gravy. If you like gravy, you'll love this!" INGREDIENTS * 3 tablespoons beef drippings * 2 tablespoons all-purpose flour * 2 cups water * 1/4 teaspoon salt * 1/4 teaspoon ground black pepper DIRECTIONS 1. Sprinkle flour over the beef drippings in a skillet over medium heat. Cook, stirring constantly, until smooth and brown. Gradually stir in the water so that no lumps form. Boil until thickened, about 10 minutes, stirring constantly. Season with salt and pepper. --------------------------------------- Mom's Country Gravy SUBMITTED BY: Nancy Smith PHOTO BY: Normal~Jeans "This is my mother's recipe I grew up with. It is very tasty and is great with biscuits and sausage." INGREDIENTS * 1/2 cup vegetable oil * 3/4 cup all-purpose flour * 1 teaspoon salt * 1 teaspoon ground black pepper * 4 cups milk DIRECTIONS 1. Heat the oil in a large skillet over medium heat. Whisk in the flour, salt and pepper until smooth. Cook and stir over medium heat until browned, about 10 minutes. Gradually stir in milk so that no lumps form, and continue cooking and stirring until thickened. If the gravy becomes too thick, you may thin it with a little more milk.