E-mails you find in your SPAM Folder?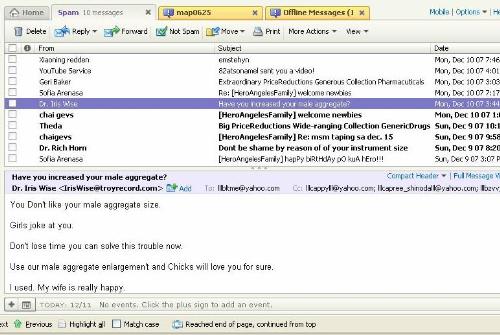 Philippines
December 11, 2007 12:52am CST
Are you annoyed of the messages you find in your SPAM folder? Sometimes, these messages reach your inbox. I am just curious on the kinds of e-mails you find in your spam box. Mine is about approved loans, Viagra or any organ enhancement stuff, or letter of a reach person in a certain country who is asking for my account number to transfer their riches. What's your Spam box story?
3 responses

• United States
13 Dec 07
I get all kinds of crazy ones. I had one that told me I had a long lost family member trying to get a hold of me to give me some money and some other crazy ones telling me that I can grow my p... I was like wow really and I am a girl now that would be magic or a huge surgery LOL........hahaha no thanks

• Philippines
13 Dec 07
I wish some of the spam mails were true. I really money. Sometimes, they tend to tempt me. Hahahaha!

• Philippines
13 Dec 07
just about the same story Tryx :-)

• Philippines
13 Dec 07
Hehehe! Yeah, I wonder why most of the stuff I receive are viagra-related. :)

• United States
11 Dec 07
I'm in the same boat as you. I get all those same things you mentioned in mine and some of those also make it to my inbox. I also get stuff about dating, live web cam, internet business opportunities (scams), etc.

• Philippines
13 Dec 07
Do you care about reading all the mails in you SPAMbox? Sometimes, like important e-mails from another e-mail address tend to end up in the spam box. I used to experience that and somehow because of that I see to it that I read or atleast I have scanned the emails in the SPambox. :)