Angelina Jolie and Brad Pitt Family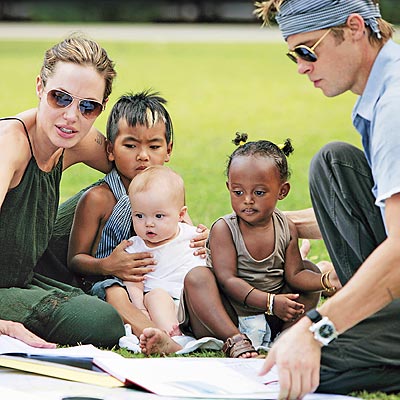 United States
December 11, 2007 12:58pm CST
I am not a fan of many Hollywood celebrities, but I have to admire Angelina and Brad because of the huge task they have undertaken. They are doing so much in their personal lives-adopting children who would otherwise be in poor circumstances, and they are doing a lot of good for others. I have been doing some research to find out about exactly what they are doing. They have set up an organization in son Maddox's homeland of Cambodia to help children, and are in the process of doing the same for adopted daughter Zahara in her homeland. They are doing wonderful things in New Orleans to help revive that city following the devastation wrought by Hurricane Katrina. The funding of 150 homes is an awesome undertaking by anyone's standards. They have also said it is a possibility they will be adopting more children to add to their family. They are truly unselfish and loving people who are giving back in many ways. They are a unique couple who are doing good things in a unique way!
4 responses

• United States
13 Dec 07
I think they are good people. They aren't doing any of these things for publicity or for to make themselves look good, they are doing these things because they really care.And it looks like they are a great pair.Dare I say it, they were made for each other. I have seen Brad in a few films and Angelina in many and they are fine actors but it looks like they are better people.

• United States
13 Dec 07
I know that Angelina has been doing this type of thing for a long time, sarah, and it is wonderful that she has paired up with a man who shares her enthusiasm for doing good work for the needy.


• United States
13 Dec 07
Yes, carolbee, they are an admirable couple. Between them they don't seem to have a selfish bone in their bodies.

• Australia
17 Dec 07
I know they are celebs but I see these two as regular people who are doing something that counts. They are not looking for staer status and attention, what they are doing is very much bottom line and I hope they are setting a good example for others who are in a position to help. I believe they are genuine. Sure, they have nannies and can offload the kids when they are tired but I see more photos of Ms Jolie carring a child than nt. She wears simple clothes and doesn't draw attention to herself. Same with Mr Pitt. These two are (relatively) quiet achievers who put hteir money where their mouth is.

• United States
6 Feb 08
They are a down-to-earth couple, Ms Tickle, and they are also doing wonderful things to help rehabilitate New Orleans since Hurricane Katrina.


• United States
13 Dec 07
He is very sweet, Calais, and I do believe they were made for each other. They are one of the rich and famous couples who seem to know what life and love are truly about.