folks what do u like more "smoking" or "drinking"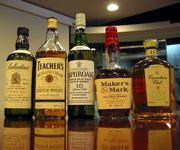 Pakistan
December 11, 2007 10:46pm CST
well drinking and smoking r two things which r widely common now,many prefer smoking over drinking and many drinking over smoking,,,lol,well i dun smoke but do drink beer occassionaly and so whisky too,being harmful to health yet both things are consumed in heavy quantites thats why the companies producing them are earning huge profits,so folks if i am not wrong more than 70% of mylot users here might be consuming one of them,so what do u say folks.
2 responses


• India
12 Dec 07
I do not smoke and I do not drink. At least for the last 10 years I have not done so. Earlier when I was in college, I used to smoke and drink and they are like choosing between the devil and the deep sea. My appeal to youngsters to give up both, so that they can stay more healthier and wealtheir too!!