Advise for somebody who's getting married?

Philippines
December 13, 2007 12:12am CST
I love weddings. They are so full of promise, of love and of hope. Attending a wedding is witnessing the beginning of a new family. I will always hold dear the memory of my wedding 3 years ago. I know that whatever happens, I always remember the moments of that day when I finally marry the man I love. Best wedding gift? All gifts were appreciated, but the cash gifts truly helped. The rest are still in storage even after 3 years. That's what I give nowadays, coz I know that's what the couple really wants and needs but are to shy to say so. Why the sudden sentimentality? My brother is getting married soon! My advise? Create a memory that would make you smile when you remember the happiness and love you felt that day. :) What would YOU advise the soon-to-be-weds?
4 responses

• India
13 Dec 07
Wedding is a important thing between husband & wife. Because after marriage both (husband & wife) will be not be different but they will one (family) so wedding do I think move (turn)your life.

• Philippines
14 Dec 07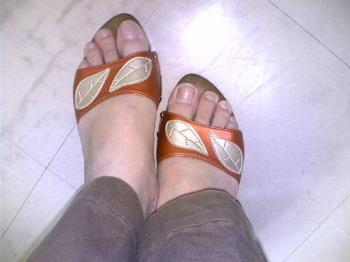 Yes, that is something that everyone who's contemplating marriage should always keep in mind.

• Philippines
14 Dec 07
Oops, the image of the shoes was supposed to be for a discussion I started. I don't know what went wrong....

• United States
13 Dec 07
Never say anything when you are so mad that you won't be able to take it back. Both need to be under agreement before any fight breaks out that if the other one says they need a moment they both separate for a minute and let eachother come back when they can talk to eachother. And that's the important part. TALK!!!

• Philippines
14 Dec 07
Yes, it's always important to have an open line of communication, before the wedding and most importantly when you are already married!

• Philippines
14 Dec 07
I think the best advise I could give them is this, Never be both angry at the same time..at least one of them should pacify the other's anger and not flare it up.. in our marriage, we try to do this and it's very helpful, but hubby is always the one who give way to my moods..:) and I love him more for that.

• Philippines
18 Dec 07
That is really very good advise :). If both are hotheaded at the same time, you might say or do things that you'll regret later.

• Philippines
13 Dec 07
actually i am immature with this topic, but i think what i could advice to you is to think not just twice but a million times before gettin' merried, ok\, please respond to my discussion too thanks

• Philippines
14 Dec 07
That's very wise and not at all immature! Yes, marriage is a heavy commitment, some of us says it's a lifetime commitment so we have to be very sure of what we're getting into. :)