What according to you came first the chicken or the egg?

India
December 14, 2007 10:15am CST
According to me it has to be the egg.Then the egg on its own cracked and then the chicken was born.
3 responses

• Bermuda
4 Jan 08
to me that is way that is should go too bercause just as humans are born egg first i know god made it that way and plants starts with seeds and the beat goes on in order for the reproducitve system too emerge it has to start with an egg or seed so it has to start somewere from the get go before it can reproduce itself!!!!!!!!!!!!!

• Philippines
3 Jan 08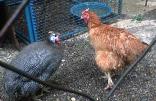 According to the Holy Bible, in the book of Genesis Chapter 1, on the fifth day God created birds according to their kinds and He commanded them to multiply and so therefore, since chickens are winged and considered as birds, the hen and the rooster came first then they multiplied, the hen laying the eggs and hatching them to grow as chickens.