Which cr wud you consider buying if u had penty of money???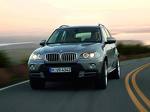 India
December 16, 2007 10:35pm CST
HI all u mylotters... Everybody likes driving their cars.. Some have tastes for big powerful machines like the SUVs and some go for the lighter Sedans... So, tell me, which car wud u have bought if u had lots and lots of money?? Tell abt the exact model.. U sure must be having a picture of it in ur mind at present... Share with me people... I have a dream car and I wud surely buy the BMW X5 if had the money to buy it.. I m surely working towards my dream, and I am sure of achieving it soon...
6 responses

• United States
17 Dec 07
I wouldn't buy a nice car because then people would know I had money. I think it would be funny to be filthy rich and drive an old beater truck.

• United States
17 Dec 07
that is completely true. But I wouldn't but a very cheap one either. I would go with a normal car, an everyday one, because if need to use those are the comfortable ones.

• United States
4 Jan 08
I would buy a Jaguar which my children call a jagular. I love that car and I always wanted one, I had a list as a kid I wanted a purple porshe, a yellow mustang, a green cadillac and a white Jag. Well I had a yellow mustang and a green cadillac now forthe porshe or the jag.

• United Kingdom
17 Dec 07
If I had lots and lots of money I would buy a Romahome. It is a tiny camper van that is the size of a large car. It has two seats in the front, a mini fridge and wash basin and a fold down double bed. These days though that would be too small for me so perhaps I would buy a bongo. It is a mid sized camper van. I like the fold up triangle shape roof that has sleeping space in it. Having a camper van would be wonderful. I could go for long weekends away and travel round Europe every summer. If I had to buy an actual car it would be a Golf convertible. That is because I would like a sporty open top car. I hope that you achieve your dream soon.

• Australia
17 Dec 07
Any car that fits my whole family, maybe with couple of spare seats for visitors too. Not really into cars, so wouldn't know which make or model would suit our needs.

• United States
17 Dec 07
My yongest son will be ready to drive in about a year so I would like to get me a brand new car, that way my eldest son can have the one I drive now and my yongest can have his. It works out for all of us getting new cars and everything. I guess I could get the car if I really wanted to but we would have to give up a lot of the luxeries were acustom to.

• United States
17 Dec 07
There are too many cars that I would buy, given endless funds! But if I had to narrow it down to just one for now, it would be the Ford GT. No, not the Mustang GT, the Ford GT. It is the remake of the legendary GT40 Mark III from the '60s that Ford had many wins against Ferrari (and others) with. And it's only $149,500 USD, MSRP. Quite a bargain!