mercedes benz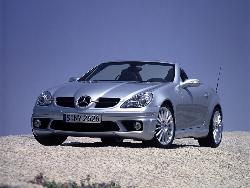 India
October 29, 2006 5:51am CST
6 responses

• United States
3 Jan 07
I like them, the C class is fun to drive, the E class is more comfortable, but not as fun to drive. I am sad to say, as much as I love convertibles, the small one I drove was too tigh of a fit. With the roof up I felt very cramped. I can't imagine what my 6'2" husband felt!

• Lithuania
28 Jan 07
I have Eclass 36amg ;] it`s a lot of fun to drive it :) feel the power

• Romania
2 Jan 07
MY FAVORITE IS C CLASE !!!! The 2007 C350 Luxury Sedan Engine 3,498-cc DOHC 24-valve V-6. High-pressure die-cast alloy cylinder block. Alloy heads. Counter-rotating balance shaft.Fuel and ignition system ME 9.7 engine management. Integrated sequential multipoint fuel injection and ignition includes individual cylinder control of fuel spray, spark timing and antiknock. Electronic throttle. One high-energy ignition coil and spark plug per cylinder. 100,000-mile spark-plug intervals. Intake system Dual overhead camshafts with continuously variable intake and exhaust timing. Magnesium dual-stage resonance intake manifold increases intake runner length at lower rpm for improved response. Electropneumatic turbulence flaps at start of intake path help increase intake airflow speed at midrange rpm for greater air-fuel mixture swirling and stronger, more complete combustion. Transmission Standard electronically controlled 7-speed automatic with rear-wheel drive or 5-speed automatic with optional 4MATIC™ all-wheel drive. Driver-adaptive programming adjusts shift points to the driver's current driving style. Touch Shift allows driver to manually downshift and allows upshifts by nudging the shift lever left or right from the Drive position. Shift into Optimum Gear programming allows one-touch selection of the best gear for maximum acceleration or engine braking by holding the shift lever to the left of Drive for one second. Driver-selectable Comfort mode starts vehicle moving in 2nd gear or a 2nd Reverse gear, and upshifts at lower rpm, to help improve control on slippery surfaces. The instrument-cluster displays a readout of selected gear range and Standard/Comfort mode.IS MY FAVORITE !!!