Hobbies and favorite activities...what are yours?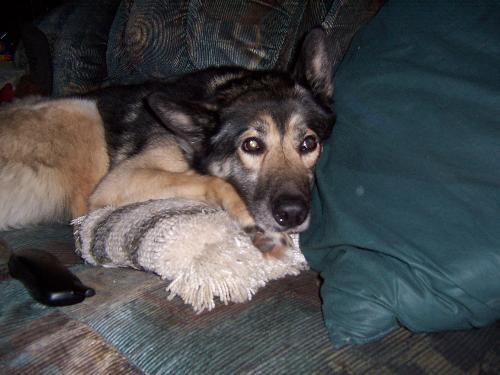 Canada
December 18, 2007 12:20am CST
Whenever things get hectic I do my best to make sure I include things that I enjoy doing to reduce stress and keep life in balance. Some of the things I enjoy doing are snuggling with David and watching a good movie with our 2 big dogs and 5 cats surrounding us in the great room. I light some candles and incense make a big pot of tea sit down and say 'ahhhh.' Other hobbies and favorite activities include listening to music, scrap booking, photography, gardening, exercising, taking nature walks, traveling, role playing computer games, Mylotting, reading, doing yoga, taking long hot soaks in our bubble jet tub. Well that is enough about me...what about you? What are your favorite hobbies and activities? Best regards, Raia
9 responses

• Indonesia
21 Dec 07
My favorite hobby actually is travelling. You see, I can easily get stress and panic. If there is something trouble me and I can slap them out, I'll try to find my self relax in many ways. lol so, the best choice is traveling. Other, is internet surfing, watching, swimming (i don't care that I can't swim very well, though ;) ), reading, and sport. I love doing something challange and make me sweat. lol God bless ;)

• Canada
24 Dec 07
Traveling...that is a great hobby and pass time. The other things you enjoy are similar to mine...and I appreciate that you dropped by and shared them here. Thanks. Also all the best of the season to you...hope you can relax and don't get too stressed out! (smile.) Take care... Raia

• Canada
19 Dec 07
Ahhhhhh I love the relaxing moments. Need them too, my life has been quite stressful for a while now. I love the idea of snuggling - less pets though, just one dog now and 2 cats :) - but instead of tv I prefer to read a book. Often I snuggle on the sofa with hubby reading while he watches tv this way we're both happy :) Hobbies/favorite activities... well, playing boardgames with hubby and kids, writing, painting, swimming, canoing - our favorite in the summer - playing with computer graphics with my son, photography, walking with my dog, camping... lots of favorite things, and thankfully the opportunity to do them all :)

• Canada
19 Dec 07
Hi...and your input is appreciated. You added a few more favorite activities to my list that I forgot to mention...love canoing too and camping is fun. Spending time together with one's 'sweetie' is a blessing for those who have it. Hopefully your stressors will begin to lessen soon. It is good that you know of ways to decompress...we all need that. Enjoyable to read about what others like to do and what they find fun and relaxing. We need to be reminded of that during the 'busy-ness' of the holiday season. Hope you enjoy yours! Raia

• United States
18 Dec 07
I can't seem to "Sit still" so I knit almost obsesively. Sweaters, mittens and hats, baby stuff. I have just finished a beatuiful blankte, sweater and hat for grandchild # 10 due in March. It's a good thing that hockey is on nightly. Knitting while I watch tv is my nightly reward. I sometimes wonder if my knitting is a way to avoid my own thoughts?

• Canada
19 Dec 07
Hi...HappyHandsSherry. After reading your response I can see that you chose a great slogan for your log in name. Sounds like your knitting really does keep your hands happy. What a joy it must be for the recipients of your creations. There is probably a lot of love in every stitch. Wow, 10 grandchildren...what a lovely family. Avoiding your thoughts...only you would know that. Maybe you just enjoy it and I am sure you can think while you stitch if you need to...right? Anyway, happy knitting and all the best of the season to you and your big, hopefully happy family! Raia

• Canada
18 Dec 07
I have quite a few things I like to do to relieve stress and just because I like doing them. While I am watching TV I sometimes knit. I do cross word puzzles. I love to shoot pool with my hubby, we have a pool table at home. I love tp play cards and we go to my mom's house on Friday evenings to play. I love to go for walks, when the weather lets me. It gets pretty cold here in the winter so then I use my treadmill. I love to do puzzles and have a table set up just for that. I have a puzzle going at all times. I love to go play the slot machines. I only get to do this about once a month, and maybe that's a good thing, because it can cost a lot of money if not lucky, although I usually am lucky. I love to go to bingo. And of course I love to mylot. I would go crazy if I didn't have my computer because I don't work and so the computer gives me something to do.

• Canada
19 Dec 07
Hi and thanks for sharing your favorite hobbies and special interests. Youu have a lot of variety within them. We live in a cold climate and I'd love to have a treadmill for those cold days when it is uncomfortable to walk too far. I have a stationary bike and universal gym in the house and that in combination with the free weights and yoga I do keeps my body in pretty good shape. Puzzles are an interest that comes and goes for me...but it sounds like you get a lot of pleasure from them. Now that we have five cats I cannot think of any place in the house where they wouldn't spread the pieces EVERYWHERE. It is so annoying when you can't find those last couple of pieces. Anyway, good to have your input.. Enjoy the holidays! Raia

• Philippines
18 Dec 07
I like taking long walks to reduce the stress. I should do it more often because the blues are starting to catch up with me again. i like watching movies or going out with my brothers. We're a very tight group so anything I do as long as I'm with them can really brighten my day. I have lots of hobbies depending on my mood... I used to paint,draw, write journal entries. Reading, baking, watching old movies, listening to really sad music helps me kill time.

• Canada
19 Dec 07
Hello...and thanks for sharing what you enjoy doing. Do you find the blues you are experiencing are due to shorter daylight time? Is it a seasonal affective disorder type of thing? Good to know you have siblings to hang out with. I don't have any and often wondered what that would be like. Drawing, writing and journaling are things we have in common. So many things to do in life...and that is a blessing in and of itself. Anyway, hope your blues leave you soon and that you enjoy the holidays. Raia

• United States
21 Dec 07
I love Mylotting of course, reading books, writing short stories, listening to country music and classic rock, being with my husband, watching movies, making money online and playing games. I like video games, computer games, board games, card games! I also love playing with my 6 dogs, 7 cats and 2 rabbits! Well that is all I can think of right now. :)

• Canada
21 Dec 07
Wow-sers! I loved hearing about your 6 dogs, 7 cats and 2 rabbits. You are indeed a true animal lover and giving so many pets a great home is a heart warmer to me. We have 2 dogs and 5 cats and four aquariums of fish...so we're on the same page on this favorite hobby and pass time. Thanks for sharing your fun stuff here. Out of curiosity what kind of board and computer games do you like to play. I enjoy scrabble, monopoly, balderdash and scruples in board games and love role playing games such as The Witcher, Titan Quest, Never Wind and Silver Fall in computer gaming. You have diverse tastes and I am glad you shared them here. All the best of the season! Raia

• Canada
22 Dec 07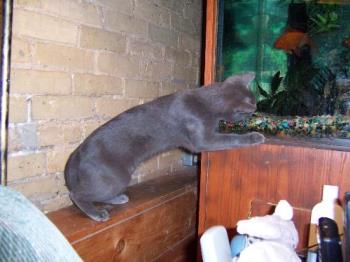 When I posted the photo it is not showing up. Not sure if it was something I did or another Mylot glitch. I am noticing some Avatars are not here either. Oh well it happens from time to time on this site. Just in case it doesn't come back I chose a different one...but along the same line...cats watching the fish. Comments are always welcome on the photo positing. If this one doesn't show up either I am signing off and will be back later. It is really slow here today and I don't have the patience for glitches and time-outs. Going to go and play a computer game instead! Take care until we chat again. Raia

• United States
25 Dec 07
when things get hectic here I do almost the same thing, but we dont drink tea we drink pop and vege out on snacks, other things are playing games on the computer answering questions and scrapbooking, photography, and making slideshows I dont get out on walks due to the amount of kids we are raising but someday I hope to take that nature walk with my husband and our two dogs.. Someday LOL

• Canada
27 Dec 07
Hi luckyme...sounds like you used a great login name. From the sound of it your life is going along a good track for you and yours. We all have speed bumps to contend with but with fun things to do and a family to share the ups and downs the favorite activities also seem more special. The nature walks will come...in the meantime keep on keeping on with what works for you and yours! Cheers, and all the best in the coming year.. Raia

• Philippines
24 Dec 07
hi raia! ^__^ when i'm tired i usually watch tv or movies. ^__^ i can relax while i'm lying on bed in front of the tv watching my favorite shows or some good movie. myLotting is also one of my ways to de-stress. ^__^ myLot relieves a lot of my stress. i would log in to myLot after work and have fun in responding to discussions. ^__^ sometimes i would also have a music trip. ^__^ just listening to music and arranging my playlists and downloading songs. my other hobbies would include scrapbooking too, and then.. cross-stitching, playing with my little nephew, reading books, texting (exchanging text messages with friends), and shopping. LOL

• Canada
25 Dec 07
Hi Secretbear... Thanks for your input on what you like to do and find relaxing. From the sound of your various activities you have something to fit any mood. That is how I feel too...when I need to be quiet and contemplative I go up to my sanctuary in the attic. It is a cozy area...sort of like a tree house for adults. (smile) So with all you like to do I am sure you have a lot of different outlets for stress and yes, Mylot sure is one of them. I am amazed at how quickly time flies when I have music playing in the background and my fingers are flying over the keys chatting with on-line pals. Hope you are enjoying the holiday season...all the best to you! Raia

• United States
3 Jan 08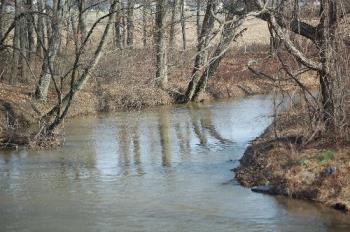 My favorite part of the day is late evening, when I can snuggle up on the couch with my s/o, the dogs are through playing and are just laying around. The main thing I do to reduce stress is walking, there are so many beautiful views around here that it can't help but have a calming effect on you. I also love scrapbooking, and it just got bumped up to a new level, I got a new DSLR camera for Christmas, I have always loved photography, and used to develop my own film and pictures, but with digital cameras and printers, it is so great to be able to print color pictures and edit them the way you want too. I love going camping, and look forward to that first camping trip of the year, we take the dog, a good book, and just relax for 3 days. It's great. I also love traveling, particularly in the summer, when we can travel on the harley, he made the comment the other day, 'I foresee a problem this year, I'll get to take less to make room for your new camera bag and stuff' LOL