Help! Money is tight and Christmas is almost here..

United States
December 18, 2007 1:51pm CST
This year has been extremely hard for us financially as I'm sure it has for others. My husband hasn't been working as many hours at the plant and since I've been in school I'm now only working one part-time job so I can keep my grades up. Anyhow, this year like I've said has been tighter than any I can remember and I don't have the money to buy christmas gifts for my nieces and nephews, but I really want to give them something. Even if it's extremely small I like to make the gesture because they always appreciate things so much. If I can't afford gifts this year for them, does anyone have any ideas for something I could do for them? I'm really upset about this and need some suggestions.. thanks to anyone who will help with this.
11 responses

• United States
18 Dec 07
You really shouldn't be upset if you can't get your nieces and nephews something for Christmas. Everyone runs into hard times and Christmas has turned into such a materialistic holiday that it's just ridiculous. If you really want to get them something, though, then I recommend going to a dollar store or a thrift store. You could also just give them a card or make something from home to give to them. Whatever you decide to do, though, don't feel upset about not being able to do more. Christmas is not about gifts, even though it's made out to be. Have a wonderful Christmas!

• United States
18 Dec 07
I completely agree with you about this holiday becoming so materialistic it's ridiculous. I just feel bad because they look forward to that. I'm sure they'll say "That's o.k." but it still really bothers me because I always get a gift from most of them. I would like to find some sort of craft or something so that I could start making some handmade gifts though. Any ideas? Thanks for your comments.

• Canada
18 Dec 07
My suggestion would be to hit the Dollar Store. They usually have all kinds of cheap toys, or little knick knacks that your nieces and nephews might enjoy! PurpleTeddyBear.

• United States
19 Dec 07
For some of the younger ones that's exactly what I'm going to do. Especially for the girls, they love all those little knick knacks. Thanks TeddyBear. BTW, I love your name it reminds me of my dad. He's a truck driver and his cb handle is "The Panda Bear". LOL!

• Canada
21 Dec 07
That's cute that your dad has the handle "The Panda Bear" I LOVE teddy bears, and my favorite colour is of course purple so to me it just fit!

• United States
16 Jan 08
Hey teddybear, I forgot when I talked to u before. When my dad took us along in the truck and people would ask if he had company along with hime he used to say "Yup, I got the baby bears' so we always thought it was neat to have baby bears as our own little special name. haha.

• United States
18 Dec 07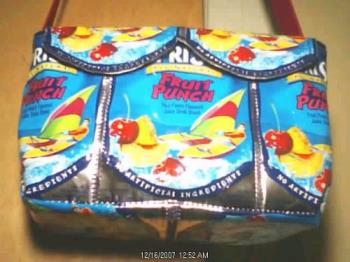 I am in your spot as well. The only thing is I have been making some extra money this year. I just chose to pay my bills over buying gifts. My daughter is done with her 3 gifts and thank goodness. I am having a table at the local craft fair tomorrow. If I can I'll pay the shipping for the purse I can send you. If I can't you can pay the shipping and I'll send your purse free. It will be made with koolaid pouches. I'll show you this sample. it's so hard to get everything you need in a small amount of time. You have to ask for help some place. I have seen so many people asking for all sorts of stuff on freecycle this year. I am going to ask for my needed gym machine. Just to show you a few. http://www.koolaidpursestore.com http://stores.ebay.com/Pretty-Purses-4-The-Penny-Pincher_W0QQsspagenameZMEQ3aFQ3aSTQQtZkm http://www.giftsandbags.com I can offer you a lower price here if needed.

• United States
18 Dec 07
MY GOSH! Those are so cute! I liked the little pink one with the fuzzy pink stuff around the top. I would love that one for my niece, but right now I honestly don't have access to cash. We just barely made the house payment a few days ago, but as soon as I get a few extra dollars I'd love one of those. Do you mind if I ask you for a few more photos? Even if it's right after christmas, I'd still be interested.

• United States
19 Dec 07
No problem I have the craft fair tomorrow night. I'll see what I have left.

• United States
18 Dec 07
You didn't say how old your nieced and nephews are, but dollar stores are always good. You can even find some brand name stuff there. Walgreens always has coupons for items that are extremely inexpensive as well. I just picked up some stocking stuffers there a couple days ago. Coloring books for 25 cents a piece with the coupon. Clearance aisles in the store are always good too.

• United States
18 Dec 07
I agree with the suggestion of dollar store shopping. Some of the dollar stores near me have things that really do retail for $10 in regular stores. Most people wouldn't know the difference! My other suggestion would be a used book store. Kids don't know the difference, and books are always a great gift. Good luck, d. It sounds like you truely want to give your neices and nephews something, or I would say not to feel obligated. Christmas giving should be done because you want to, not because you have to. I'm sorry things are tight. Oh, one other suggestion: How about a coupon for time spent together? Something like coming over to bake cookies in January, a trip to the park, or something similar. The gift of time is always the best!

• United States
18 Dec 07
Thank you Blue for noticing the fact that this is important to me because I truly love to do this for them. I never thought of books and think that's a really goood idea, the coupon thing is cool too. My younger nieces love to come over here so I was thinking maybe a coupon for a girls night sleepover or something. Thank you for your help.

• United States
19 Dec 07
The girls sleepover sounds like it would be a wonderful coupon to give. Make sure to spice it up with descriptions of any fun foods you might make, special activities like "spa time" for doing hair and nails, or whatever else you can think of to make the time special. I bet they will LOVE that!

• Philippines
18 Dec 07
If you bake, cookies would make a nice gift. :) Just package them nicely. Good for all ages!

• United States
18 Dec 07
I was thinking about this too. Could you make some cookies or candy for them. I know several people who like to have homemade stuff like this for Christmas.

• United States
19 Dec 07
Cookies are a great idea too. I have the family recipe for cut-out sugar cookies that are only made at x-mas and everybody loves them, so that would even be a great idea for my college age niece. She can take them back to school with her. I'm so grateful to you guys for all these great ideas and now I feel terrible that I can only pick 1 of you for a best response. Please don't take offense anyone because I'd pick everyone of you if I could.

• India
19 Dec 07
This christmas.. give everyone you like an unforgettable, loving, affectionate.. tight tight hug :) .. c'mon, money & gifts are not everything!!.. Know what?.. even I am outta money, quit my job to pursue studies.. so pocket is real tight here too :p ..

• China
19 Dec 07
You can take some papers to make some shape to your lover , and say the nice word to him at the usual time ! In my heart , your behaviour at the normal time is more important than that day ! Enjoy your Christmas , Good luck!

• United States
19 Dec 07
I don't know how old your nieces and nephews are but one year when I was younger and we didn't have a lot of money, my grandmother went through all the old toys and stuffed animals my aunt had when she was younger. She fixed them all up real nice and put them under the tree to be from Santa. I never knew the difference and I loved everything. I would suggest going through some old toys and stuffed animals and fix up a gift basket. Put extra little things like candy and coloring books in there too if you like. I'm sure they will get so excited going through all the things in the gift basket. Good luck and Merry Christmas!

• India
19 Dec 07
I remember responding to a similar discussion by someone else. How are you in the kitchen? Perhaps you could give each niece and nephew a tin of cookies. Or a jar of jam or pickle. Or perhaps you could make useful materials out of useless things.. it is possible.. needs some creativity.. This is all I can suggest.. wish you a merry X'mas.

• United States
21 Dec 07
do u know how to knit and sew, maybe u can make blankets and throws, my aunt has done that before,or maybe u can buy a cheap 5 dollar pic frame and put a nice pic in it. sorry it's so tough, i know how that can be, i was in the same predicament earlier this month, then i received my school loan checks, so i decided since i didn't need them for school, i will just use them for presents.