Santa is a slob for most of the year.

December 18, 2007 3:06pm CST
Lets get things straight here folks. Santa works his little butt off for 1 night of the year and the rest of the time he causes chaos throughout the world with his bad behavior. Do you think im wrong? for every positive response you give i will give you photographic proof of his vile behavior. remember folks, santa is an anagram of satan!
8 responses

• United States
18 Dec 07
OMG! An anagram of Satan. Right you are. And as I believe that Anger is just one letter away from Danger, I will not be angry at you for pointing that out, but rather will reflect on it a bit and see what sense can be made out of the correlation. If any. I hear all the elves shuddering as we speak. It may be a cold day at the North Pole before we are able to make sense of this one...

•
18 Dec 07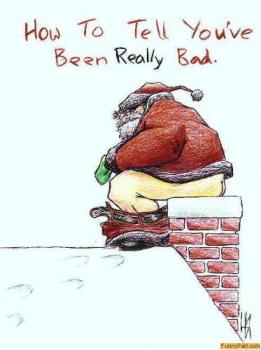 the elves are on my side! ie... . . . . Dear xboxboy santa has left us to do all the work again as he gets blootered on the brandy in the bahamas. why do we work all year round yet fat boy gets to be the face of xmas for 1 days work a year? yours faithfully elves in stalinist nort pole. I have no answer but tears for this cry of help!

• India
19 Dec 07
Bad Boy! xboxboy! letting out all Santa's secrets....i am sure he is going to set the elves on you. But since they are on your side i think you will have a wonderful X'mas!

• India
19 Dec 07
and from where are you getting these pics of him xboxboy? or is it Uncle Alfie in all those pics dressed as Santa?

• Malaysia
19 Dec 07
my testing 'problem loading page' file no.: tr26.mal.1015.wed.191207 Hi xboxboy. I never think people's idea is wrong or was wrong. Any people, including you and your idea. Because thinking is creating idea or ideas. From their thinking, they will get for what they think. If you look for quid, so you will get quid and I cannot say other's thinking is 'not the full quid'. Between SANTA - SATAN, it just like SANTA CLAUS = SATAN LUCAS and SPAR - RASP. The terminology of the anagram, actually, give different meaning - xboxboy. And there, maybe, a close relation between Santa and Satan. My assumption, Satan is spiritual and Santa is physical. My Source Link; http://www.baptistpillar.com/bd0196.htm Happy Postings and Earnings, xboxboy.. HAPPY DAPPY.


• Argentina
19 Dec 07
Give the poor guy a break, how well would you behave having absolutely nothing useful to do all year long? and then, in one night, go through the entire world, giving out presents and laughing whether he's in the mood of not...

• Turkmenistan
19 Dec 07
Are you mocking me little boy? You know as well as I do that Santa Claus does not exist, but Satan is very real. When I first read this I thought that you were calling Santa a slob, because he wears red and the is affiliated with a gang and that is with their enemies call them. Anyway, living in Scotland, you probably don't have a clue about such things. Anyway, you are going to get it for mocking me. I am going to figure out a way to put egg on your face. You and your little monkey cousin.