Only in the...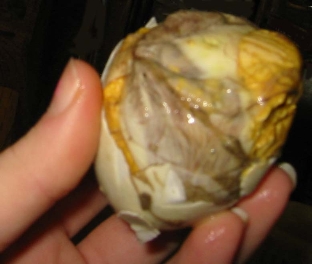 Philippines
December 19, 2007 1:28am CST
There are several things that are specifically unique in your country. I live in the Philippines. And in my opinion, only in the philippines that you can see the male species will void wherever they are e.g. on the electric post, on a wall, just right behind a truck, etc. Then there is this delicacy called "balut", it is an unhatched duck, where in you can see the unhatched creature, then there's the ilang ilang-which is a type of orchid that is said to be the most beautiful orchid in the world. As of now that is the only thing I can think of. I have read this one email that has been sent to me by my high school friend. There are things that are happening "only in the Philippines". I hope someone can post it.hehe... Anyways, how about you? What are the things that you can say it is only in your country? It can either be positive or negative.If something in my entry is wrong, just correct me politely,. I don't want any rude comments please. Thanks.
9 responses

• Philippines
26 Dec 07
Yes, men just turn their backs and do their thing and I think this is not only done in the Philippines as that is a necessity. But other countries do not talk of such things being done there. Here in the Philippines, we do not have many comfort rooms in public but where there are I don't think that would be done.

• United States
27 Jan 08
i have been to Japan and seen this done..in the alley or the side streets of Tokyo..taxi driver wear white gloves but they still whizz in the streets..men and women can share a toilet in the parks..female attendants walk in while i am doing my business..but saying that i wish i could have more freedom when I have to relieve myself..I am a German American and I married a Philippine lady 22 years ago and we have been in many places like Mexico were the males do this too.. but in the States you could be arrested for exposing yourself...lol..i have done it when I was with male friends and we were drinking as I get older I can't hold it like I used too.. what is worse is the garbage people in Negros and even Manila..people will throw stuff and leave it..and the constant spitting...??in a lot of places you can get arrested for spitting on the street! as this spreads germs and disease.. My wife has gotten sick the last three times she goes home to the Philipines..and even the Philippine medecine won't work on her..it gets in her lungs..but it is not going to change as these "culture shock" are here for a long time.


• Philippines
31 Jan 08
Oh I have to agree big time on this. And I guess, only in the Philippines that people are so obsessed with celebrity gossips, political gossips, just about anything to do with gossips, haha.. I remember a local celeb said that Filipinos only care about PBA which means Politics, Basketball/Boxing/Billiards and artista(celebrities)..

• Philippines
19 Dec 07
There are also a different variety of flowers that grow here in the Philippines that don't grow anywhere else in the world. Just wanted to add, thanks! Haha, "the male will void anywhere" I totally agree with you on that, I see it everywhere too. Take care.

• Philippines
19 Dec 07
Have you tried doing that too?haha, just kidding. That is one thing that I find amusing with my "kababayans" they can't hold it, if they need to void they really need to void,hehe.. I want to add. I think I made a mistake the "balut" thingie is not only in the PHilippines. I made a research and apparently Vietnam and Cambodia have it too.

• Canada
19 Dec 15
Men around the world seem to need less privacy to void than women.

• United States
8 Feb 09

Hello quawertz! I do believe that balut is only from the Philippines and I love it. I will also say that "durian" is only in the Philippines too. Others don't like it because they don't like the smell and the look. But honestly, if they will only taste it, they would ask for it over and over again.


• Singapore
26 Jun 08
I have hear so much about the balut. Seen it on TV many times. But never really seen one for real. Nor the chance to eat one as well. Is it as good as they describe it? It seems a lot of westerners do not like it. I am really interested to try one given the chance. Can you briefly describe what the taste is like?

• Philippines
1 Feb 08
Pinoy eat strange bits of animals- the feet, the head, etc., usually barbecued on a stick. These have been given witty names like "adidas" (chicken fee), "Kurbat" as in nick-tie (chicken's neck), "walkman" (pig ears), "pal" (chicken wings), "Helmet" (chicken head) "IUD" (lol. chicken intestines), "betamax" (blocks of animal blood) Where else you can find these? only in the Philippines!

• United States
27 Jan 08
Thanks..have a nice day..my computer just failed and I am sure you know how that can be...bye

• United States
22 Dec 07
I've never been to a foreign country to know what is different about the states, but, I do think it is interesting that we have so many differences within our country. For example the midwest is totally different from the east coast and the south is totally different from Southern California.