What to get my father for xmas? Please help me!!!

United States
December 19, 2007 12:19pm CST
Okay, when I ask my dad every year what does he want for x-mas, he says nothing. Then he replies with, hmmm, get me a bag of peppermints. He did not go anywhere without a pocket full of peppermints. Well, he kicked that habbit January of this year, after he finished the last xmas bag of peppermints all the kids got him. He don't work so he sits on the computer all day checking the news and e-mails. So he is not involved in sports, so I can't get him anything in the category. He don't carry a wallet, so I can't get him that. He does watch t.v. sometimes, but he has one of those. Clothes..... well, he has like 10 of the sames shirts and 10 of the same pants and don't wear any other clothes except for those for the next few years, and it is not time for him to get more yet. So I am stuck. He is not a picky person, he just only does computer stuff, but he has all the computer stuff so I dunno.....................all his computer accesories are new, so he don't need any of them. He ocasionally works in the shop doing god knows what, but he has all the tools he needs. Any suggestions would help a lot.
8 responses

• United States
19 Dec 07
I've got the perfect gift idea, and now that I have over 500 posts, I can copy and paste it here for you. Let know what you think of the idea too. I will probably use it next year, so if you do use this idea, let me know how it worked out for you! Here is a cute gift idea for those who are stumped as to what to give someone. A Jar of Nothing Materials: Empty jar, sticky label paper or paper and clear glue Instructions: For this project all you need is an empty jar. You can print this saying out onto some adhesive label paper suitable for your printer or print in onto normal plain paper. Use some clear craft glue to adhere it to the jar. If you want to go all out, you can add some ribbon to the jar and even box it up for a great gag gift. The Saying: Did you say nothing? When you were asked what you wanted for your Birthday, Anniversary, Graduation, or Christmas. Don't you remember saying, "NOTHING"? Well, this time someone heard you, searched high and low and found this perfect gift for you.

• United States
19 Dec 07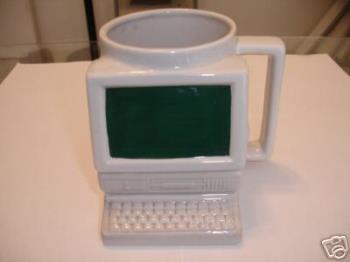 Does he drink coffee? You could get him some nice mugs and coffee. My dad is the same way. Very hard to buy for..not because hes picky..he has what he needs. He loves to drink coffee...if you cut him hed bleed coffee! LOL. He also like to play on his computer. So I got him a computer shaped coffee mug! Very neat! I think im going to fill it with m&ms. He loves those to. Hes often found by the computer drinking coffe and eating m&ms! LOL. Or you could get him a gift card to his favorite resturant or store. Hope you find the right gift!! Merry Christmas!

• United States
21 Dec 07
Oh yeah, he goes through like 20 pots of coffee everyday, I forgot about that, he could always use a new coffee cup, that you so very much.

• United States
24 Dec 07
No Problem. My dad drinks about that many as well. I dont know how he can drink so much and drink it Black.

• Netherlands
20 Dec 07
Why not giving him all sorts of peppermint.He likes it.I know my father loves a cartoon and every year we give him that.And he just loves it. So maybe he's the most happy with peppermint.Or you could make something yourself which really looks like the way he is. It's never easy finding presents for the one you love.Maybe someone else in your family has a suggestion.Maybe something you remember from your youth.

• France
20 Dec 07
What about a really nice pocket sized tin in which he can keep his peppermints? You could even 'enamel' on for him specially, you know those small tins of mints, if you drip different shades of nail varnish all over the surface, then swirl them with a toothpic whilst runny, they will set smooth and hard, and look very much like fancy enamel work. Its a gift that takes all of ten minutes to make, but would satisfy his peppermint craving whilst still being unusual.


• Philippines
20 Dec 07
I find it hard to suggest any gift taht would suit your dad..it seems he doesn't really need anything material at this time.. I think,going out with him..a walk in the park or see a nice movie with him, you may include the whole family..would be fun..if he wants to go out.. but if he doesn't you can always give him the hugs and kisses and just tell him you love him so much. :)

• United States
20 Dec 07
You didn't say if he has hair or not, but if he does, here is a nifty gadget: http://www.amazon.com/Remington-HKVAC-2000-Vacuum-Titanium-Haircut/dp/B0009OAFUM/ref=pd_sim_hpc_njs_title_2 I got one for an old guy I like and he loves it. This home haircutter is easy to use and leaves no mess. I know guys hate to get hair down their backs when they snip here and there between haircuts. If your dad is bald, then I'm clueless. Sorry.

• United States
19 Dec 07
How about one of those massagers for his desk chair? Or you could get him a personalized mouse pad that has a funny saying on it that includes his name or maybe a family picture? What about a foot massager or soak that he could do while he's on the computer? Socks? A big candy jar full of peppermints? Maybe a watch? All men like watches! :-) Well, that's all I can think of right off the top of my head. Hope it helps! Take care and Happy Holidays.