Molokai, Hawaii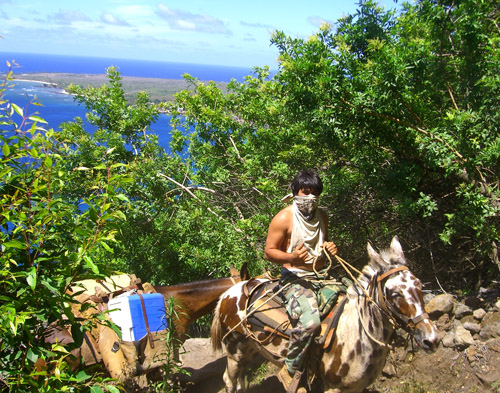 United States
December 19, 2007 6:28pm CST
I regularly visit the About.com site for items of interest on just about everything. I especially like the photo galleries. Today they had one of Molokai. I found out some interesting facts about the island-along with viewing some beautiful scenery. I don't know if you are familiar with the story of the famous leper colony they had there back in the 19th century, but the lepers were cut off from society because of fear that the disease would be spread. They were helped tremendously by a priest, Father Damien, who eventually contracted the disease himself. I remember the story from the mini-series based on James Michener's book. Have you ever been to Hawaii? If so, did you visit the island of Molokai?
3 responses

•
22 Dec 07
I have never visited Hawaii - I have always wanted to go there and hopefully one day I will ! I have heard of the leper colony set up by Father Damien but I didn't know it was Molokai or even Hawaii! I think if I went to Hawaii and had the chance I would definitely visit Molokai! xxx

• United States
8 Jan 08
Yes, mummymo, Hawaii ranks right up there among the top ten places I would like to visit in this world. It must be very beautiful in person.

• United States
21 Dec 07
I have been to Hawaii and it's beautiful. We stayed in Honolulu and also Maui. There are many things to do and the beaches are wonderful. I'm not particularly fond of flying so doubt I'll make a return visit anytime soon. I'm not at all familiar with Molokai or the story of the famous leper colony. Thanks for posting this information. I'll have to visit About.com.

• United States
8 Jan 08
I learned much about Hawaii, carolbee, from the book by Michener, and later, the mini-series. It is very rich in history.

• United States
20 Dec 07
I have been to Hawaii. Unfortunately I was only there a week and only stayed on Oahu. I would love to go back and spend a few months over there to really enjoy all of the islands. After visiting Hawaii I started researching the history of the islands. That's when I came across the information about the leaper colony. Very interesting story. And if you are going to be secluded from society what better place then Hawaii, right?

• United States
8 Jan 08
Yes, cynddvs, it would be a great place to be secluded-although not with a dread disease like leprosy at the time. I guess there's a downside to everything, though.