Self Acupunture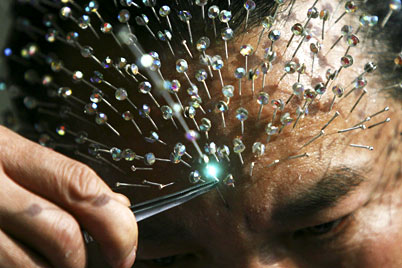 Malaysia
December 20, 2007 2:44am CST
Have you tried acupuncture before? I have not tried that. Actually, I always have problems with needles and especially when they have to stick themselves to me. LOL!Look at this man from China. I don't think I would or could ever do the same."Wei Shengchu inserts needles into his forehead during a self-acupuncture performance in Chongqing, China, Jan. 9. He inserted 1,200 needles in all, less than the 1,790 that earned him the world record."How about you. Do you think that you can do what he did.
2 responses

• China
20 Dec 07
I'm a Chinese, and I had tried acupuncture when I was young. Since I was so young at that time, I can not remember what's the feeling during acupuncturing. LOL. Acupuncture is a Chinese traditional medical treatment way, it can help sick people to recover without medicine, so this way can avoid medicine harm to people's body. But if you do not know the acupuncture way, please do not use it. It will hurt or kill you and please do not do like that Chinese man without professional training, otherwise, you will meet God quickly, LOL

• Philippines
20 Dec 07
Amazing!! That man must have memorized that acupuncture points as I know that not every part can be punctured that easily. I hope he was still okay from doing so.