Do you pamper your cat?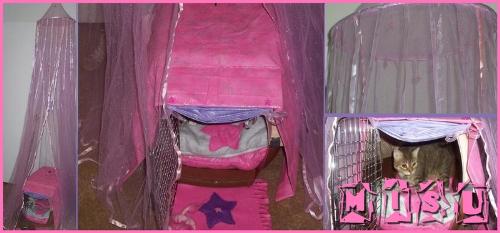 United States
December 20, 2007 2:50am CST
There are so many things out there for dogs, it's like all the cool stuff is only made for dogs. All the cat stuff is so generic and boring but of course where there is will there is a way. I still find ways to be creative and pamper my kitty. I made her a bed set using pink and purple fabric that has glittery silver stars on it as well as using pink and purple fleece. She sleeps in a carrier so I made a little covered matress with an attatched pillow on it with a hand embroidered "M" on it, a cover for her crate complete with a fabric shade for the door and star cut outs for windows, a little rug for the front and I attached pink stars to a glittery canopy (see pic). I added catnip to the mattress and the pillow. My friends all think I'm nuts! Do you pamper your cat or do you think all that stuff is best left for those tiny dogs?
4 responses

• United States
20 Dec 07
You should check out Petsmart there is a ton of pampered kitty items there. There are designer beds, carriers, collars and more. Most of the stuff is for female cats though.

• United States
20 Dec 07
Why should those tiny, yippy dogs get everything on the platter handed to them? Surely, cats are way more dignified and intelligent. That's why I give my sweeties the best food, comfortable places to sleep, and toys possible. I'm always washing their cat dishes, changing their litterboxes, and babying them. But I don't mind. Their companionship is priceless!

• Philippines
20 Dec 07
Well I do that to my cat to. And I don't think cute little dogs are the only things that are best for those things. Well I have to admit!!! I pamper my cats because they're those rare Egyptian Maws you know the like the cat in Catwoman Midnight. I love to find fun ways to pamper my kitties because it's fun for me and also for my kitty!!!

• Australia
20 Dec 07
Oh yes my cat has beds everywhere with his own fluffy blankets, in winter the electric blanket is left on for him, and I leave the shed door open with another bed in it for when I am out and he is outside....all animals deserve to be pampered...