Women: Is a man more attractive to you if he is with another woman?

India
4 responses

• Singapore
23 Dec 07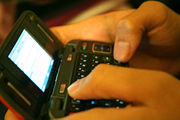 Are you sure? I am the exact opposite. When I know a guy is attached, I'll automatically turn off and will not check him out or find him attractive. Faithfulness is very important. This is the minimum I expect from my future partner. Do unto others if you want other to undo you. I do not wish to break other people's relationship as I do not wish mine to be breaked by others.

• India
23 Dec 07
hmm...well, i know at least 6 females of such an attitude...i totally agree with you.though i must say what i explained about women, such ppl does exist

• Singapore
23 Dec 07
Anyway, I made a spelling error. Not *breaked but Broken =P I agree with you such girls do exist. My relationships have been broken before because of such girls. But I do not blame them. It takes 2 hands to clap. If a guy is so easily tempted, he is not worth it.

• United States
23 Dec 07
To answer your question, no he's not. I don't generally pick up on guys in the first place, but I'm no more or less likely to look at them if they're with someone or not.

• Guangzhou, China
24 Dec 07
I don't think so. I always find the men who are married or have girl friends are not attractive to me.

• Canada
24 Dec 07
I'm not really sure where you got that information. It is possible that it might be true in some cases but the majority of women I know - me included - don't seem to check out guys with girlfriends more than the ones without. Actually, if I was still checking, I would pay much more attention to the ones without.