I am new to this site and hope to meet alot of people

Cayman Islands
8 responses

• United States
24 Dec 07
Welcome to mylot! If you would like you can add me as a friend.

• United States
3 Jan 08
Hello welcome to mylot, I am fairly new here also, I don't have alot of time to spend here and like meeting new people because I don't think I will actually make much money because of the limited time I have to be here.

• United States
25 Dec 07
Good afternoon and welcome to the mylot community where anything and everything can be talked about. I hope you enjoy our family and congrats I hope to read more of your discussion and remember you also earned by responding to others too. Enjoy your holiday and have fun.

• United States
25 Dec 07
Welcome to myLot, and I hope you will be satisfied and choose to stick around. myLot is a wonderful place to be. I have been here now for over 14 months, and have met many wonderful people and learned a lot of interesting things I may not have known otherwise. Merry Christmas to you and yours, and hope we continue to see you around myLot.

• China
3 Jan 08
Hi,extrex,welcome to mylot!I believe you will love this website because users here are nice and friendly.If you have some problems,you can share it with all here and quickly other people will give you lots of suggestions. Of course,anything interesting is a good topic for your discussion.Say something more and let more people to know you. Happy mylotting!

• Canada
3 Jan 08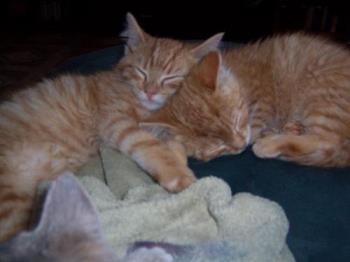 Happy new year...greetings and welcome to Mylot. Always good to have new members. Hopefully you will enjoy the site as much as all the other regulars. I am coming up to my 8th month as a member...and I never tire of this site and all the wonderful on-line friends I have met here. I also love your Avatar...we have two ginger marmalade male cats...and have included a photo. Quite a photo there...stick 'em up or I'll shoot you...hmmmm...is there another message there? Lol... Cheers, Raia

•
2 Jan 08
Hi Extrex Welcome to mylot. I'm still kind of new here myself, haven't been here two months yet; but I enjoy coming to see what people are talking about. They have varieties of discussions that suits all.