The Perfect Birthday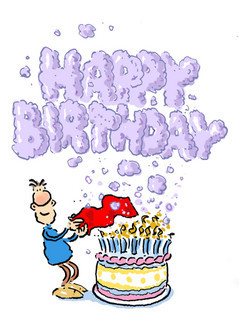 United States
December 26, 2007 10:31am CST
Birthdays come, birthdays go, and they are all apart of a persons every day life. From the lady down the street who insists that she is 20 years old, even though you know that shes 20 years older, to the toddler, who wishes that he/she can be a "big kid" some day. What, is your perfect birthday present? Is it even material? Or is it just the thought and knowledge of knowing that you are another year wiser?
3 responses


• United States
26 Dec 07
Wow- really? I thought presents were what people enjoy the most about birthdays. Especially after they reach a certain age.


• United States
26 Dec 07
That'd be so cool! Not ever growing up, and enjoying the simiplar things in life.

• United States
26 Dec 07
well birthdays are a little different for me...I was born on leap year, the 29th of feb, which only comes every 4 years..I do get older each and every year but most of my family members tell me is is not my birthday..some of them will not regonize it as my birthday.My two daughters will give me something but everyone else no! I suppose my best birthday was when my two daughters sent me 2 dozen beautiful red roses and a gift to a day spa for the works, a massage,hair and nails done...Now when the 29th of Feb comes all the family will respond to that one...