Tiger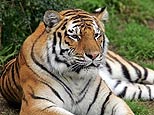 Philippines
3 responses

• China
27 Dec 07
I'd love to have a pet lion.A huzzy and cute child lion.We lived together in a small village by the forest.When he grow up ,I will let him go home.

• United States
27 Dec 07
I love tigers!! In the Chinese Zodiac, my birth year makes me a tiger. I have always loved them and am actually thinking of getting a tiger tattooed on me somewhere. They are beautiful animals and as long as they are raised correctly, they wouldn't be hard to handle. ~~Taz~~

• United States
27 Dec 07
i do not think a tiger is a good pet to have.but someone like u would lie to have a tiger like that.also alot of people would want a tiger to.