Wolfie is his name. Wolfgang Amedeus. How did you choose your pet's name?

United States
December 27, 2007 10:09am CST
Wolfie is our 5 year old puppy. He's part Shitzu and part Poodle. I never wanted a dog but our daughter left the little thing out in her back yard all the time and never paid much attention to him. His hair was so long and matted I couldn't stand it. The other dogs wouldn't let the poor little thing eat and I felt like if I didn't step in the poor little thing would die. I got the dog out of her yard, gave him a haircut and bath and hand fed him, which was the only way he would eat anything. He's been in our home ever since. Our daughter has long since moved away and left Wolfie with us. I changed his name to Wolfgang Amedeus, but we still call him Wolfie. What's your pet's name and how did you choose the name. I would have probably picked a name like Precious or something because the little thing is so small and so precious.
8 responses

• Philippines
28 Dec 07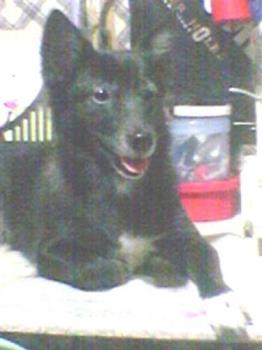 My pet dog is Woppie she is black cut and small and a japanese spits, I got her from the province where I came from. I really love her specially my children. She is almost 4 years old now and as of now she don't have babies. We treated her like humans and not a pet. We talk to her and play with her. My daughter name her Whoopie because she is black. I added a picture of her.

• United States
28 Dec 07
How cool. She's pretty. My daughter has a cat named Whoopie. Same reason. How funny.

• Philippines
28 Dec 07
Ohh really it so funny what a coincidence.

• United States
28 Dec 07
Must be a fan of Mozart? I just have two cats now, Pyewacket..a pure black cat and probably the inspiration of my user name that I use everywhere, and I swear he is my "magical" cat. Of course many people associate and remember that name from that old movie Bell, Book And Candle with Kim Novak, Jimmy Stewart and Jack Lemmon. But did some research about the name and actually goes back to medieval England days. My other cat, Kissy is a tiger-striped cat, how I came up with her name no real idea. Many years ago my mother actually created a population problem with too many cats..she did have hoarder personality and I literally got stuck in the middle of it all, so after awhile I just plain had to get pretty inventive about names..like Kissy, Missy, Lakota, Dakota, Cheyenne and on and on--Kissy's name does suit her though as she is a little love bug

• United States
28 Dec 07
I too had a black cat I named Pyewacket,,,years ago,,,from the same movie, Bell, Book and Candle. How cool is that. That was years ago. Now we have 4 cats that keep Wolfie very occupied. Peanut, because he was no bigger than a peanut when he came to us, Squeaky, because when he came to us he couldn't meow, he could only squeak, Baby, who was my husband's mom's cat and Cha Cha, who came to us quite by accident. We named him Cha Cha from the line in Ya Ya Sisterhood when the girl driving the car says, "Cha Cha Cha". All of their personalities are so different. I can't turn down needy animals.

• United States
29 Dec 07
Oh yes, so familiar with the Ya-Yas...both my favorite book and movie...that was a stellar cast I thought. I identify a bit with that movie, for though my relationship with my mother wasn't quite as bad as that between Vivi and Siddhe, it wasn't exactly a picnic

• United States
29 Dec 07
One of my favorites. Ya Ya......I think we've all had that time with our moms. Even my daughter has her times with me.....It's just a part of the natural order of things I think.

• United States
27 Dec 07
This is too funny! My dogs name is Wolfgang Amedeus!!! We call him Wolf, although my niece calls him Wolfie, and when we got him I wanted to call him Cocoa (close enough to 'Precious' in my mind!) My kids outvoted me and took away my future pet naming privileges.

• United States
27 Dec 07
How funny is that zigzagbuddha? People look at me so odd when I tell them his name is Wolfgang Amedeus. I carry him in a belly pouch or push him in his very own stroller when we go shopping, which of course developes into lots of looks and conversation. I guess Wolfgang Amedeus is a good name. He seems to like it. Not like Mr. Barky Von Snouzer, although I kinda like it.

• United States
27 Dec 07
Yeah, Mr. Barky van Snouzer is a funny name, but not too good for letting your dog know you mean business! I always knew when I was in trouble because my mother called me by my first and middle name, in a very no nonsense tone. When I'm not in a mood to horse around I call him WOLFGANG! (not Amedeus though) If you tried saying "Mr. Barky van Snouzer, get over here", he'd probably just look at you and laugh!

• United States
28 Dec 07
Your mother sounds like she might have been related to mine. I think calling me by my first and middle name stuck. Now everybody does it. My Wolfgang wouldn't know beans from cornbread if I called him by his whole name. But if you say anything that remotely sounds like Wolfie, he thinks we're talking about him. He's so cute......

• United States
1 Jan 08
I don't have any pets right now, but I've named a few over the years. I named a dog, Pepper, after a character in the movie, Annie, which I was watching when I got her. And, another dog I named, Cookie, because she was black and white like an Oreo cookie.

• United States
1 Jan 08
I like the name Pepper. I had a German Shepherd I named Pepper, cause he was the color of it. Interesting how we pick names for our pets.

• United States
29 Dec 07
We studied and looked for the right dog. We finally ended up going to another state to pick one out. Expensive, but she is now seven years, and has won ribbons. We know we made a good choice. She had a pedigree, but the name wasn't filled out. We tossed around some names for her; a black lab. My husband wanted 'Emmet' but I won with 'Hunter' since this dog was to run in Hunt tests and Field trials. It was a good name for her!

• United States
30 Dec 07
Sounds like you keep busy with Hunter. I know how much it takes to have show dogs. I never took the time but love watching them.

• United States
27 Dec 07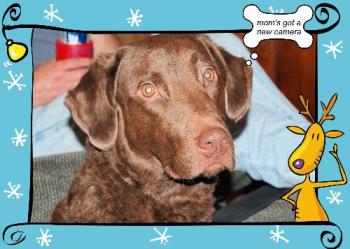 Tinker is a 75 lb Chesapeake Bay Retriever, my s/o named her Tinker because that name does not imply a 75 lb dog, lol. However, I got to give her her registered name which is Mojo's Texas Blue Sky, mojo is her momma's name, and I'm originally from Texas.

• United States
27 Dec 07
How cute! Everything is bigger in Texas, which is where I am from, left, came back to, and am now. Will probably stay here from now on. Love the name Tinker and love retrievers.

• United States
27 Dec 07
I picked my doggie names Cocktail because momma loved to have a cocktail on the weekends. and now cocktail is still my sweet treat

• United States
27 Dec 07
I KNOW THAT'S RIGHT! Love the cocktail. LOL

• Malta
1 Feb 09
My wife has chosen our shetland sheepdog's name. After a lot of pondering finding a suitable name was not that easy but when she thought of saffy as a pet name, we stick to it and disregarded the others.