Keeshond Puppy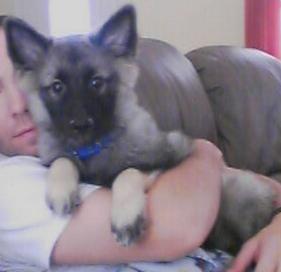 United States
3 responses

• United States
3 Jan 08
He's still a puppy, and you need to remember that. You can still try teaching him though by telling him come, and you could maybe have a treat that he likes in you hands and when he comes you PRAISE him and give him the treat. A word that I teach all my dogs is 'cookie', it seems to get there attention more than come. It may be because once we start doing obedience training we still use treats, just not as offten, especially with the more advanced they come, so by teaching them cookie they know that everytime we say that and they come, they'll get the treat. Hope this makes sense.

• United States
30 Dec 07
What a cute dog! You are very lucky. He's pretty little, but that doesn't mean it isn't time to start basic obedience training. Even if you call him and he comes by accident; praise, praise, praise the little guy. But you can always step it up a notch and when you call his name, and he comes, give him a treat. (we used pieces of kibble, or dog food - they don't know the difference) I would keep a baggie with kibble in it, inside my pocket, Ready for rewards. Eventually he will come without outside stimulus. This worked for us.

• United States
27 Dec 07
Your puppy is so cute! Maybe you need to give him a little more time. He is just a puppy, give him a chance to learn.