Do you believe that the Lochness monster could be a dinosaur...???

Philippines
3 responses

• Romania
30 Dec 07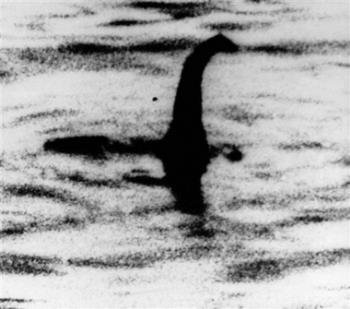 Hello, acatantan! First of all, let me say that I neither support nor oppose the evidence brought forward to prove the existence of the Loch Ness Monster. Up to this date, however, I haven't seen any clear evidence that this "monster" is even a living creature. Assuming that we are dealing with an animal, I really don't believe a dinosaur could survive in Scotland. Some said it might be a Plesiosaurus. Any plesiosaurus (or any reptile) that large needs either warm waters either a high amount of food (or both) to keep its large body warm enough to function. Now, let's remember Scotland is in rather high latitude to allow the existence of large bodies of warm water. And even if there would be enough fish in Loch Ness to feed it, I strongly doubt it had enough fish during the Ice Ages. The amount of food necessary grows even higher if we consider the existence of more than one such creature. And, let's face it, if a dinosaur would still be alive, it must have parents or an age of about 65 million years! How could a lake such as the Loch Ness support a family of such large dinosaurs? I apologize if I wasn't clear enough, English is not my native language.

• Philippines
31 Dec 07
First of all, i really am not an English man. I am a Filipino and i am very proud of it. Second, do we know what really composed the lake...??? Well, i can say that you are partly right but we still don't really know what in the lake...???

• Romania
31 Dec 07
I didn't make the "first of all" comment because I thought you were English, I just wanted to be clear from the beginning that I'm not taking any sides on supporting the monster's existence. And if you refer to the last line, I just wanted to explain the grammar errors I might have made, that's all. As of the Loch... You probably mean to say it may be warmer in the depth. That is a possibility, but I strongly doubt that. For large bodies of water to be warm, they must be close to volcanic or rift structures. Scotland's igneous rocks are mainly from the Paleozoic, if I remember well. And there is no rifting closer than the Atlantic ridge, so I doubt the conditions for heating the Loch are met. Anyway, it remains a mystery.

• United States
30 Dec 07
I don't know if the Lochness monster is neccessarily a dinosaur, but I think there is a possibility of dinosaurs existing still. There are certain animals that look so close to dinosaurs to me that I just can't believe there is nothing left of dinosaurs at all. What exactly defines a dinosaur, anyway? I think it is very possible for there to be a Lochness monster family that has survied for quite some time. The cool think about our Earth is that we are nowhere close to understanding all of it yet.

• Philippines
31 Dec 07
Yeah, you are right. Maybe the lochness monster is an animal but i don't really know what it is and it can related to dinosaurs...

• United States
13 Jul 08
Usually people that think the Loch Ness monster exists think that it is some sort of plesiosaur or other aquatic reptile, not a dinosaur. http://www.scienceblogs.com/tetrapodzoology/ This blog is maintained by a British paleontologist, he's written a number of articles on cryptids. You should probably find most of your answers regarding Loch Ness and other cryptids here if you search the blog. Cheers,