Happy 2008~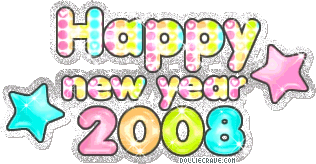 China
December 31, 2007 8:44am CST
Well, the new year, the new life for everyone here in mylot! Wish all the best things come to you! The chance, the fortune, the good luck, the happiness... Happy 2008 and all the best wishes ^_^
5 responses

• China
1 Jan 08
Hello dear zelsing. Happy 2008 to you as well and all best wishes follow you in the new year.

• United States
1 Jan 08
When I read your entry and it said, 'the best things come to you. . .chance, fortune, good luck. etc. I hadn't thought about what I would wish for the new year. I do have on a polka-dotted item of clothing, and will see if that will help with the wish (or the luck). Do I need a four leaf clover or something else to make it stick? Ha! I've too much to be grateful for, and that is why it is hard for me to see what is missing in my life! LOL

• India
31 Dec 07
A very happy new year to you all and enjoy a life with some beutiful things to be apart of that life like love,friendship,peace,harmony,happiness.

• China
31 Dec 07
Thanks ...I just wanna to say "happy new year and all the best for u" All the best and take care... Molly

• New York, New York
31 Dec 07
Happy New Year to you too. I wish you all the best for the coming new year.