What type of food do you like most?

Philippines
11 responses

• India
10 Jan 08
Chinese, Moghlai and Indian are being my favorite food. I just love home made typical bengali food, nothing like it! Never tried tempura, how is it?



• United States
31 Dec 07
For me it's Mexican food! I've never tried any Filipino food, and I don't know the difference between the Japanese and the Chinese food that I eat!

• Philippines
1 Jan 08
You should try filipino food someday :)

• United States
1 Jan 08
That, I am going to do!! I'm looking forward to it!


• Philippines
1 Jan 08
SHAWARMA is my favorite - is that a middle east food?

• Canada
1 Jan 08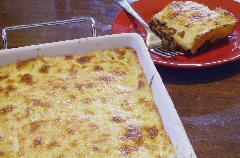 I really like Greek food . I work in a Greek restaurant, and have really come to love alot of the cusine. I love lamb and at one time I hated it. I like the side dishes like spanokopita, dolmodikia. moussaka. I could go on and on. I have learned to cook alot of things at home.

• Philippines
1 Jan 08
Ooh.. I haven't tried Greek food yet. I hope I could soon!


• Philippines
10 Jan 08
I like Filipino since I have it almost everyday at home. Growing up in the middle east, I've been accustomed to eat food there and I like and miss it a lot. The shawarma there is my favorite and is incomparable to those found here in the Philippines. I also like Indian food and eating Indian food just makes my taste buds rejoice. All the talk about food makes me crave for food I won't be able to get a hold of here in Manila.

• Philippines
9 Jan 08
in main dish i prefer Japanese and Chinese, starters i prefer Italian, and for desserts i will choose American and English cuisine

• Uganda
1 Jan 08
Italian food, especially supergetti makes me feel so watery in the mouth-they are very delicious-I also like pure Italian Coffee-they are just out of this world!

• South Korea
1 Jan 08
i like filipino,korean,malaysian dish.