How many bands can you find on this picture?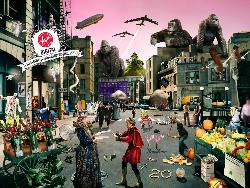 Finland
October 29, 2006 11:21am CST
Hey, i found this cool picture a year ago or something... it might not look like anything special but when you take a closer look then you can see that on this picture there are MANY music artists and bands. It's all symbolic. The bands that are there: 50 cents Alice In Chains B52s Beach Boys Bee Gees Black Crows Black flag Bloc Party Blues Brothers Blur Cars Cornershop Cowboy junkies Dead Kennedys Deep Purple Dinosaur Jr Eagles Elvis Eminem Garbage Goldfish Gorillaz Green day Guns 'n' Roses Hole Iron maiden Kiss Korn Led Zeppelin Lemon heads Madonna Manikin Matchbox 20 Mc hammer Men At Work Mountain Nine Inch Nails Pearl Jam Pixies Police Prince Queen Radiohead Ratt Red Hot Chili Peppers Rolling Stones Scissor Sisters Seal Slippery Eels Smashing Pumpkins Spoon Suicidal Tendencies Tatu Television The Blind Melons The Doors The Streets The Vines Twisted sister U2 White Stripes Whitesnake Yellowman Zombies Im SURE There are MANY more to find... help me out will you? If you find anything that isn't on the list please post...
1 response

• Canada
2 Nov 06
wow as fi you wrote taht all out, but I'm terrible with names...