Ricky Pointing will he beat Sachin?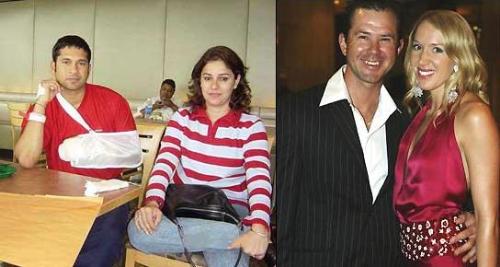 India
January 1, 2008 12:30pm CST
As and when this day comes sometimes during the year, its certainly not going to be a happy one for Indian cricket fans. This is one record that an indian batsman has held for the past 24 years. First Sunil gavaskar and now sachin Tendulkar have remained the men with the highest number of centuries against their names in Test cricket . But by the time we sit and so crystal gazing for 2009, there could be a new world order. A certain Ricky pointing is approaching Tendulkar's magic number of 37tons at a great pace.currently, 33, the austrailian captain has 7, 100s in 14 tests during the last 2years as compared to sachin only 2, 100s. Would he be able to surpass sachin If yes then when? Thankx for reading Do reply.........
5 responses

• India
3 Jan 08
Yes, given the current form, the odds are very much in favour of Punter. But you never know. Even his form may take a dip. The Indians can themselves contribute to the cause by not giving him a chance to score a century in the current series. I feel if Sachin can get a few centuries between now and the time he retires, it would be difficult for Ponting to catch up. I am sincerely hoping that that turns out to be the gaze.

• India
3 Jan 08
But during these series sachin has a greater chance of getting into centuries....As austrailian lack the power house.... Becoz u could have seen sachins innings in the first test in MCG he was plundering them all over the park and having a strike rate of more than 80 that means he is really enjoying to play in those conditions.... And only a special ball would be able to dismiss the little master.


• India
2 Jan 08
We have to take into consideration that Sachin had a bad luck during 2007 becoz he became the highest person in the history to get 90s run.... If we take this into account they their no question sachin is way ahead of pointing.... But a 90 is 90 not a 100 That is why its possible that pointing has a chance to surpass sachin only if sachin is still getting out in 90s


•
2 Jan 08
hi! it is very good question. may be your assumption will be true one day, but at the end its all about the game, one cant be consistent all his life time, may be sachin wont be in the #1 slot, but ricky pointing cant be campare to sachin, if sachin carries on with same performance then there would be a huge difference in there 100's, if sachin ets back to his good form then he will be very close to pointing, but i think it is very difficult to for sachin to maintain that slot forever.... it would be different if pointing passes sachin after sachin reteirment..... one thing is sure legend is always a legend.......

•
2 Jan 08
if sachin crosses 40 centuries i dont think ponting will ever beat him. though now there is a slight chance that he might go ahead of him but the indians are doin a good job currently of not allowing him to score many runs in australia.