Which brand do you use?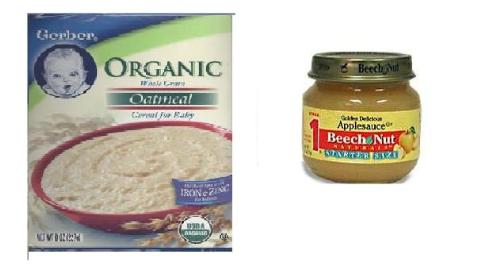 United States
8 responses

• United States
2 Jan 08
I use different brands because my son may like a certain thing that a brand does not make or may like something that all brands make but only like the taste of one brand. If it is on sale I stack up on them only if I know he is going to eat them.

•
2 Jan 08
When my son was younger i brought some baby food and also made my own. My son only liked the fruit types of baby food and wanted real food like mash potato and veg for his main meals. I brought him fruit jars which were "cow & gate" and "hipp" brands. I found that he prefered to eat home made mashed up food than the premade jars that you can buy. It was interesting to experiment with different mixtures of food to see what he liked more. ~Joeys wife

• United States
2 Jan 08
When my kids were babies they ate Gerber baby food. I guess I bought that because it was a brand that had been around for a long time and was a brand that you could trust. My kids are to old for baby food now and they eat anything in site!

• United States
2 Jan 08
Whatever's cheapest. I hated when they went to those plastic containers. They were hard as heck to open and were only 3oz so even though there were 2 to a pack we had to open both because my youngest at 4oz at a sitting, which is what the jars used to be. Luckily my youngest didn't eat baby food very long. We started her at 5 1/2 months and she only ate it once in awhile (a few times a week) and was eating all table food at 8 months (self feeding at that). So we were done with baby food after a few months.

• United States
2 Jan 08
I started out making my own baby food- veggies and fruits, but when my son was old enough for the dinners with meats in them, I bought Gerber. I tried Beech Nut, but he didn't like it. I did occasionally buy the Gerber foods in the plastic tubs when we were going out- it was easier because I didn't have to keep them cold and I could just throw away the containers.

• United States
2 Jan 08
I used mostly Gerber baby food for my boys, but would occassionaly get a different brand if they had a flavor not available with Gerber.


• United States
2 Jan 08
well, 29 years ago when my kids were little I bought about 15 jars of baby food - Gerber of course and glass jars. The small ones are 1/2 cup and the large ones are 1 cup in size. So I'd empty them, make my own baby food from fresh vegetables and fruits and filled the jars back up and froze them until needed. Then wash and sterilize and use again. Once they were out of baby food I used the jars for things like jello, pudding or other things to measure for diets or for kid friendly. Pop a top from a 1 cuper for the diet or the 1/2 cuper for the kids snack! Now with my grand daughters, I dont' hae them often enough to do all this. But I do notice that the plastic containers are rather expensive and you only get 2 for a rather hefty price. I did save some of the little plastic cartons for keeping other tings - mini tupperware! They have so many idfferent kinds these days -all you new mom's are lucky.