Myspace Phishing Attack Gone Out Of Control!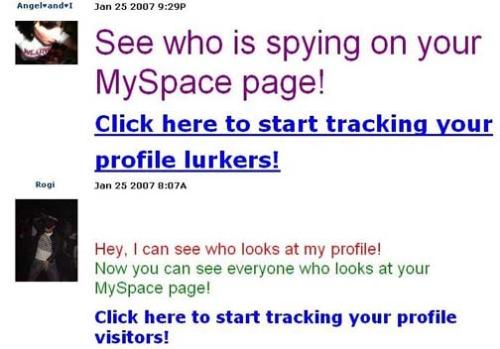 United States
January 2, 2008 3:46pm CST
For the years that myspace has been around - hackers, vulnerability problems and lack of internet security has gone out of control! How many of you know people or yourself been a victim of getting your own Myspace attacked by phishers? Did you happen to open up your profile and it says "Your Myspace Has Been Phish Attacked!" and by this users cannot send comments or messages to their friends until they have changed a new password. Why? Because for those who created malicious codes to your profile has just stolen your password and now they have access to your own personal account! And what are the symptoms you might ask? Well for one - do you ever check the post bulletins? Ever wonder why your profile or someone else's profiles sends weird messages that can be vulgar or just plain bizarre? Ever wonder why certain people send you the same comments for you to open up like it says "FREE RINGTONES" or "FREE MYSPACE LAYOUTS" but don't you realize those sites are phishers to prey down on your profile and others? That's why for you myspace users you ought to edit your profile since myspace has provider a more proper way to secure your profile - that means add people who you really know and don't leave your profile open where other people start sending you messages you don't really need because they too can be a hacker that will try to phish attack your own profile. Also leave your profile where only people can add you if they know your email or last name. Only allow your friends only to comment you or message you. By doing these things you don't have to worry about phish attacks!
5 responses

• Cebu City, Philippines
6 Jan 08
Wow, im glad I dont have myspace account, i dont like this kind of excuse they are giving when something happens. I just hope things will be ok soon.

• United States
6 Jan 08
Well surprise, my profile got phished. And it wasn't from seeing a bulletin I didn't post or an e-mail I didn't send. It came directly from myspace, they now e-mail you when your profile has been phished. I found out after being on for a couple of hours and tried to leave a comment to a friend. On my home page and my mail, both myspace and yahoo, it said that my profile was blocked because it was phished and to change my password. Well I changed it twice, then thought I better exit out completely and start over again and then changed it again. Then when I went to my friend to leave them a comment again, it did the same thing. So I contacted myspace and asked if I need to be signed off for a while before I can do anything.. And of course, changed my password for the 4th time...

• United States
3 Jan 08
i had never had this problem until one of my friends sent the myspace tracker thingy then b4 u knew u i was posting comments and bulletins left and right to get the my space trakker no i wasnt doing it so i had to change my password and i havent had a problem since

• United States
2 Jan 08
Yes, in the beginning I have had my profile phished a couple of times. Now it's just a few friends who get phished because I got a reliable source on preventing phishing. (Yeah, this guy knows how to phish, ex-b/f of my daughters, but I got the info many months before they broke up. so I am 100% sure the info was correct, especially since my profile hasn't been phished) You also have good ideas, thanks for sharing..:)

• United States
2 Jan 08
Yep, I've had this kind of thing happen. I got a comment that appeared to be from someone on my friends list except the comment wasn't showing up right. I asked him about it but he said he hadn't left a comment. It happened at the same time there was an announcement from Tom about phishing like that so we both changed our passwords.