decent extra money!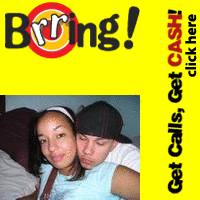 United States
January 3, 2008 10:34am CST
Well I found another way to make some extra money. It's this website I went on here's the link: www.brring.com/signup_validate.php?invite=3362543577 When I went on it, I saw that you get paid by check every month but It's based on getting phone calls on your phone from your friends, and you get .05 for every call that your phone receives. Plus you get a lot of features. What do you think about this one?
3 responses

• India
3 Jan 08
The above system has been started in our country and it was a failure. Any way best of luck and it may work in your country. How do you like to earn $1000 per month with out investing a cent. But there is one condition that you should work at least two hours per day. I have already requested your friendship. Please accept it and i will send you the details if you are interested.


• United States
16 Feb 10
Hey Check out http://www.ultimatewebscene.com/

• United States
3 Jan 08
First, I'd want to know a few other things. Does it really pay? How long do the phone calls have to last? Do they listen in? How do they know when you get the calls? Do you have to give them a list of phone numbers that could potentially be calling you? Do you only get paid if other users of the site call you? It sounds a bit more than a tad like it's invading one's privacy.