Iowa Caucus & The Holy Grail: The Republicans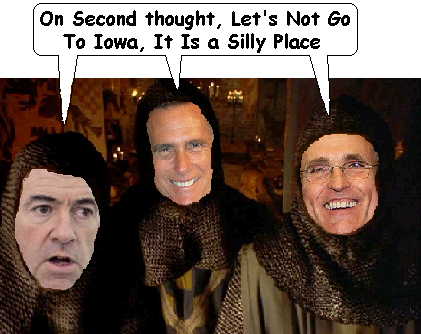 Sheboygan, Wisconsin
1 response

• United States
5 Jan 08
That's great ParaTed! A little humor is always a nice addition. I'm a long-time Monty Python fan. So, the silly quote is uproarious!!! "Neat". So, have all the candidates cowered yet? Did you do this yourself, or did you find it on the web? If this is your brain child, way to go! If you're sharing it, thanks for the chuckle.

• Sheboygan, Wisconsin
5 Jan 08
Yeah, this is my brainchild...actually there were more pics but I just threw these two up to see if I'd get any feedback. My photo satires don't usually get much play here at Mylot. The rest can be found on my blog, "I'm From the Government, I'm Here to Help". http://forums.joeuser.com/?forumid=39&aid=171835#1409321

• United States
5 Jan 08
Mornin' ParaTed, I'm sorry to see that others didn't get the chuckle I did. I know there are other Monty Python fans here, 'cause I've run across a few of them. Oh well, we can't catch every discussion. In any case, I appreciate your effort. Thanks for sharing!