Did you know that bees are good for other purpose...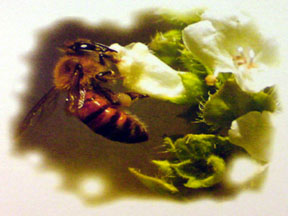 Singapore
January 4, 2008 2:03am CST
Bee are important to us. Besides pollinating plants and creating honey, they can be deployed to other uses as well. Bees can be conditioned to develop a preference for TNT or any material that releases metamphenamine. The bees can be attached with a small tiny radio plates, the size of a rice grain, to detect antipersonnel landmines. There are about 100 million in 70 war-torn countries still riddled with landmines. The tiny radio plates are engraved with serial numbers to keep track of the bees. Special spectrometers that can detect the TNT are placed in movable beehives to indicate landmines in specific areas. Bees that can "smell" the explosives can then be traced to the landmine. Due to their size, they will not be able to detonate the landmines though. Interesting... isn't it? Just in case you cannot see the image. http://images.mylot.com/userImages/images/postphotos/1835502.jpg
2 responses

• India
4 Jan 08
Yes friend, What u said is true.I came to know from my uncle about this.It is helping a lot not only for our body but also in various scenerios.I did not see it practically but i listened it from my uncle. Have a nice day

• Singapore
4 Jan 08
ha ha ha ha ha... I was reading it in some newsletter I got. It was really something new to me. I never knew bees could be used for other purposes other than gathering honey and pollinating plants. You heard it from your uncle eh? How did he know or learned about it?

• India
4 Jan 08
Hi friend, My uncle is homeo pathic.He does all types of surveys regarding bees and plants.He reads lot of books on animals and plants.So from him i came to know about it.


• Singapore
4 Jan 08
that's interesting... my favourite fact about bees are the honey that they make. i love manuka honey. have been taking quite a lot of it when i am down with cold or flu. great that this method doesn't require 'sacrificing' the bees. guess it's just amazing what man can do in tandem with nature.

• Singapore
4 Jan 08
wahh... eat manuka honey to fight a cold or flu ah? Manuka honey is not cheap leh! Some one here is well off siah... :p ha ha ha... just trying to be cheeky there. I also love the taste of manuka honey. It's robust taste and aroma is really unique. But the cost is the one that is stopping me from taking it regularly. The higher the pfm, the more expensive it is! Which pfm level of honey are you taking?