What is the importance of money in your life?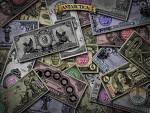 India
January 6, 2008 9:20am CST
Everyone in the world needs money to make there life more easy.So What is the importance of money in your life?
7 responses

• Cambodia
12 Jan 08
Money is like blood. The problem is we don't have any more the control of Money : we have Credits which is debt not money.

• Italy
7 Jan 08
Gaining much more money than you need for yourself is POSSIBLE, so you have the actual possibility to work hard and accumulate money to become rich while other people literally starve or struggle for survival in debts. The fact it is possible does not mean that you have the moral right to do so.

•
7 Jan 08
the importance of having money in my life at the moment because i'm a student is so that i don't have to reply on my mum to give me some, but also so that i have a social life, my friends go on holiday and go clubbing every week i wouldn't be able to do that without money and then probably wouldn't be as close to my friends because i wouldn't see them as much. In the future i dream of being a millionaire from setting up my own business but in reality the importance of money would be so that i would be financially secure, able to pay my bills easily and then still have money left over to enjoy life

• Italy
7 Jan 08
Money is over-important when you don't have enough (to buy stuff you wish, to get married, to feed babies, etc.) Vice versa, money is irrelevant when you have plenty, and you shouldn't care gaining more and more if you have plenty yet. In doing so, indeed, you will accumulate not only the money you need for yourself and much more, but also the money needed by other people to avoid starving etc.

• United States
6 Jan 08
Money is important, because without money I can not do all the stuff that I want to do. I want to do amazing things, you can't do that without money.

• United States
6 Jan 08
Humans need money to buy food and clothes. They will need to pay bills if they want to live in their own house, and those who have a baby to take care of will need money for their needs. Everyone who chooses to go to a college will need money to pay for it even if they have a loan or grants.