do commercials influence you this way?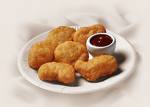 Philippines
January 7, 2008 6:51am CST
I am watching TV right now and I'm posting this because I saw a commercial of McDonalds showing McNuggets... And now I can't stop thinking of nuggets and I actually want to eat some! :) I just wonder, do commercials influence you this way too? Do share your experiences :)
5 responses

• United States
7 Jan 08
some do i remember when i was young and that one hotel had the commercial "we'll leave the light on for you" i did some taveling then and that was the only hotel i would stay at i think that is the only one that has done that to me

• Canada
14 Jan 08
No, commercials don't have much influence over me. But the commercial people would love you. McDonald for example, this is why they have commercials. So people like you will go out and buy from them. I hate most comeercials. I think most of them are stupid and sometimes I don't even know who the commercial is for. I watch TV also while I am posting in mylot and I just try to ignore the commercials and concentrate more on what I am posting here.

• Canada
8 Jan 08
Sometimes they do, if i am hungry, but being pregnant i am almost always hungry lol. so yes the answer is yes! mostly if its something junk foody type, like chocolate cake, or mcdonalds, or something that i have yet to try.. I want cheesecake. mmmm chocolate cheesecake..

• United States
8 Jan 08
Yes, commercials influence me too! They specialize in doing that, that is why they make so much money!

• South Korea
7 Jan 08
some commercials can influence me but sometimes due some curiosity ill try to buy.