treadmill desk burn 100 calories per hour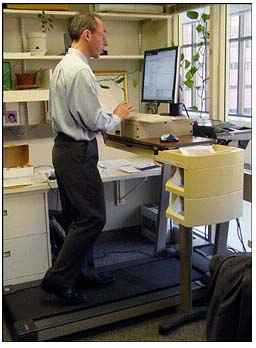 United States
January 8, 2008 11:51pm CST
Someone has come up with a treadmill desk that will burn 100 calories per hour. can you imagine having this at work or home. 2 hours a day, 5 days a week mean a 1 pound weight loss every 3 weeks if nothing else changes. That is almost 20 pounds a year. Makes you wonder why employers aren't buying these to cut down insurance costs and help employees lose weight. If this was available for home use would you get it?http://www.medgadget.com/archives/2007/05/treadmilldesk_burns_100_calories_per_hour.html
4 responses

• United States
9 Jan 08
If I had a business I would hook these 'desks' up to DC alternators charging batteries to power laptop computers & lights so employees could save me money on electricity.

• United States
9 Jan 08
I like that idea, at home we should be able to tap our TVs into these things, we can watch TV, lose weight and save on electricity. I use my iPod when I use the treadmill, we should be able to charge batteries with it for future use.

• United States
10 Jan 08
I like your idea, the more you use, the healthier you become and the more money that is saved. Pure brilliance, redyellowblackdog!


• United States
9 Jan 08
Naw, I won't rush out and buy one. In a few years, I will be able to find one at a garage sale for $15...lol. It is amazing when going to yard sales that 2/3 of them have exercise equipment to sell. Tells you all you need to know about this fad. The concept seems plausible, but I bet if most of these employees changed their eating habits, they might lose weight naturally. What good is it for the employee to tread on a mill when they go to McDonalds for lunch? Weight loss and healthy living requires a complete life style change involving many aspects.

• United States
9 Jan 08
I don't think the exercise thing is a fad. I eat healthy, I can't remember the last time I was in a McD or BK or Wendy's or anything else - wait one time we went to a sonic in October. But I don't lose weight, I am at between 1200 and 1500 calories a day, I am now using a treadmill for about 20 minutes a day 4 times a week - I am building up but the scale does not move. It is not so easy for a lot of people and definitely harder for women then men. But I do like your idea of waiting for a garage sale...since that is the only way I will be able to afford it.

• United States
9 Jan 08
I really didn't mean that exercise is a fad. The fad is that so many buy these devices thinking they will use them to lose weight or get in shape. The sad truth is that most do not stick with a plan and end up sticking their treadmill or whatever in the basement or getting rid of it. I hope you can make some progress with your plan to get healthier. How you think of yourself has a lot to do with it, I believe. See yourself as being healthy and follow your inner urges to reach your goal. Last I heard, McDonald's sales keep rising, so someone besides you and me are eating their junk foods.

• United States
10 Jan 08
We just went to the mall today and realized the local McD's in their was gone. It was closed. So they must not have been doing to well.


• United States
9 Jan 08
I might buy it after trying it. I would just wonder if I could type at the same time as walking. I think it would be quite a task.

• United States
9 Jan 08
Some typing I could do...but if I was a real trained typist, I am not sure. There would have to be a place to rest my hands. It would develop new neuro-networks and help prevent alzheimers.

• United States
12 Jan 08
Yes I probably would.Then I would be able to exercise while I mylot. Seriously though I agree with you about employers. It would benefit most of us. Our nation as a whole needs to take care of our over all health.